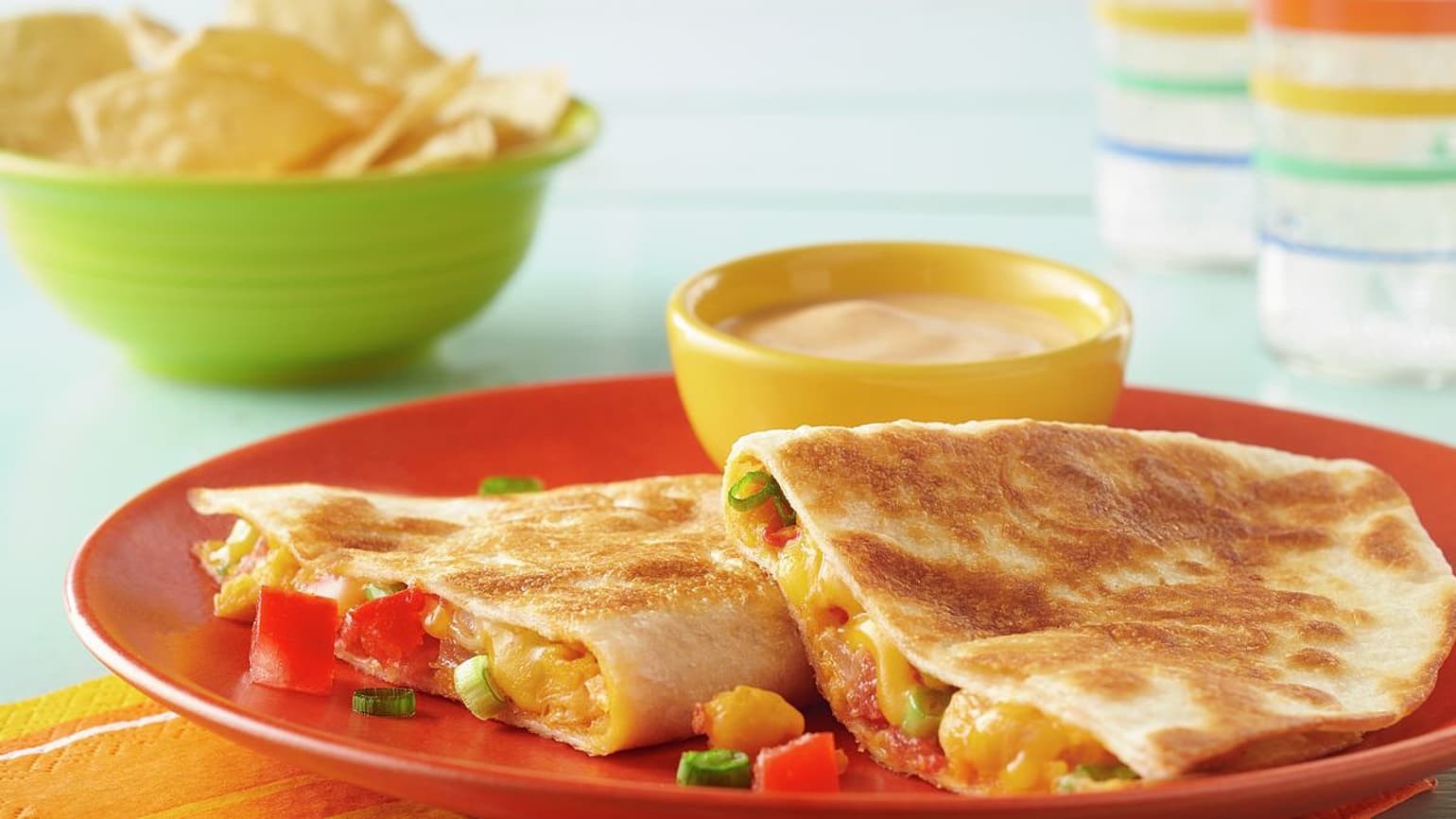 Vegetarian Buffalo Chickpea Quesadillas
Looking for vegetarian quesadilla recipes? Enjoy this meatless take on a fan favorite—Buffalo chicken quesadillas! Making a quesadilla vegetarian is a breeze when you bring in chickpeas. For this recipe, you'll layer chickpeas, hot sauce, cheese, green onions and tomatoes into a folded tortilla to create Vegetarian Buffalo Chickpea Quesadillas. Don't forget to serve with Old El Paso™ Zesty Ranch Sauce on the side!
Ingredient List
1/4 cup butter
1 cup chopped onions
2 cloves garlic, finely chopped
1 can (15 to 15.5 oz) chickpeas, drained, rinsed
1/4 cup original cayenne pepper sauce
4 Old El Paso™ Flour Tortillas For Burritos (8 inch)
1 cup Old El Paso™ Shredded Mexican Style 4 Cheese Blend (from 8-oz package)
1/2 cup chopped green onions (8 medium)
1/2 cup chopped tomatoes
2 teaspoons vegetable oil
1/2 cup from 1 bottle (9 oz) Old El Paso™ Zesty Ranch Sauce
Advertisement
Recipe Continues Below
Preparation
In 10-inch nonstick skillet, melt butter over medium-high heat. Stir in onions and garlic; cook 2 to 3 minutes or until vegetables begin to soften. Add chickpeas; continue to cook 4 to 6 minutes or until vegetables and chickpeas begin to brown. Remove from heat. Add hot sauce; roughly mash chickpeas with fork, leaving some whole.
On half of each tortilla, layer about 1/4 cup of the chickpea mixture, 1/4 cup cheese, 2 tablespoons green onions and 2 tablespoons tomatoes. Fold tortillas in half. Brush top of each quesadilla with about 1/4 teaspoon of the oil.
Heat 12-inch nonstick skillet over medium heat. Place 2 quesadillas in skillet, oil side down; brush top side with about 1/4 teaspoon of the oil. Cook 1 to 2 minutes or until golden brown. Carefully turn quesadillas; cook 1 to 2 minutes longer or until golden brown. Repeat with remaining quesadillas.
Cut each quesadilla in half; serve with zesty ranch sauce on the side.
Expert Tips
Dial up the heat by adding sliced jalapeños to the chickpea quesadilla filling, along with the green onions and tomatoes.
These vegetarian quesadillas are hearty enough to serve on their own, but feel free to serve with a side of tortilla chips for added crunch.
This vegetarian quesadilla recipe was tested using Frank's™ RedHot™ original sauce, but you're welcome to use another variety of hot sauce.
Cooking Vegetarian? Always read labels to make sure each recipe ingredient is vegetarian. Products and ingredient sources can change.
Nutrition
1 Quesadilla Calories 350 (Calories from Fat 180); Total Fat 21g (Saturated Fat 10g ,Trans Fat 0g); Cholesterol 40mg; Sodium 840mg; Potassium 180mg; Total Carbohydrate 32g (Dietary Fiber 4g ,Sugars 5g); Protein 10g
% Daily Value: Vitamin A 10%; Vitamin C 10%; Calcium 20%; Iron 10%
Exchanges: 1/2 Starch; 1 1/2 Other Carbohydrate; 1/2 Vegetable; 1/2 Very Lean Meat; 1/2 High-Fat Meat; 3 1/2 Fat
Carbohydrate Choice: 2
*Percent Daily Values are based on a 2,000 calorie diet