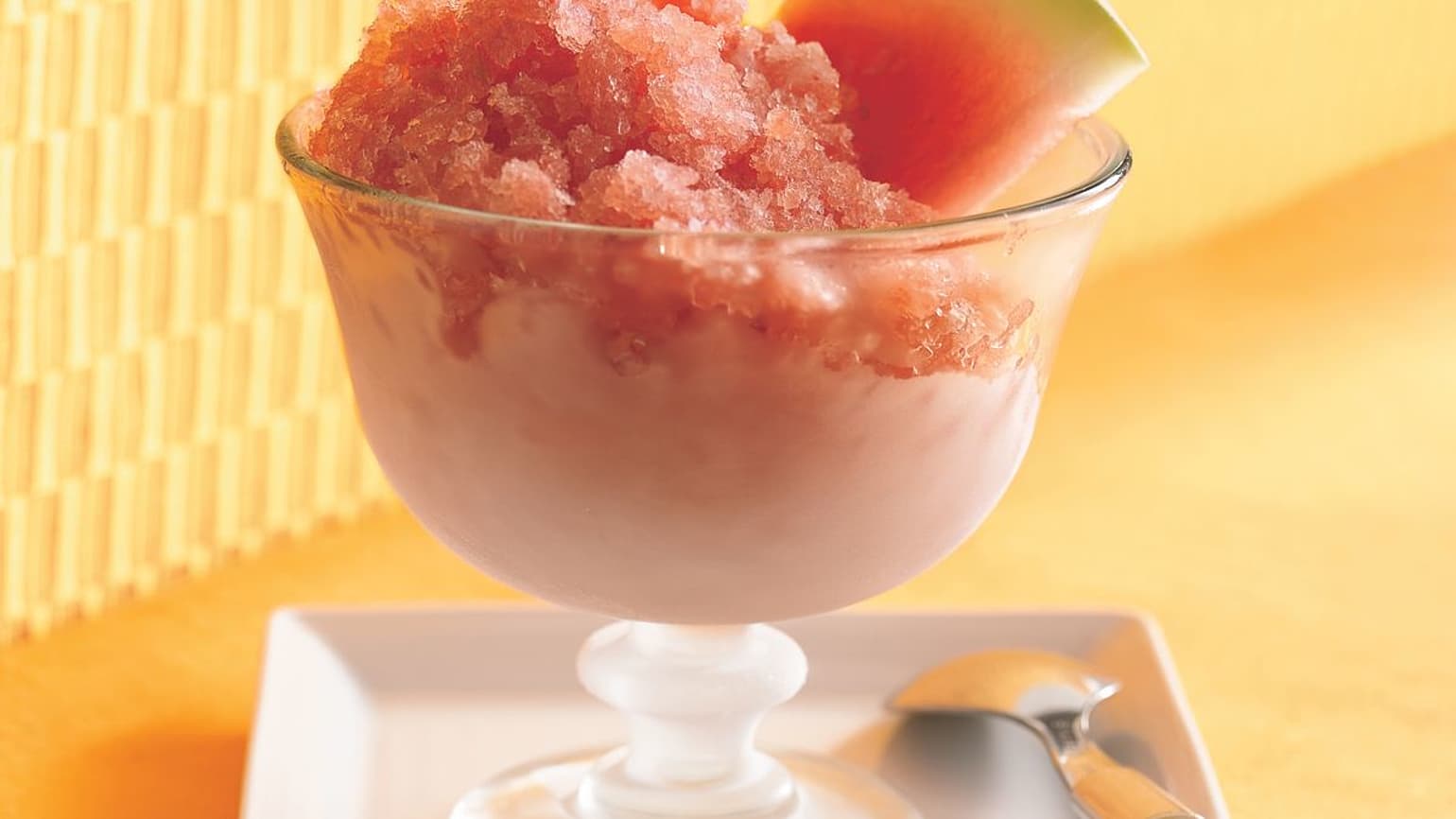 Watermelon Granita
Ever had a granita? How about a watermelon-lime granita? Originating in Sicily, granitas are partially frozen desserts—think somewhere in between Italian ice and sorbet. That means they're perfect for a hot day! Fresh watermelon juice makes this recipe even more of a refreshing must-drink. Let's learn how to make a Watermelon Granita.
Total Time
4 Hours
25 Minutes
Ingredient List
3 tablespoons lime juice (juice of 2 to 3 limes)
1 cup water
1/2 cup sugar
6 cups 1-inch cubes seeded watermelon
Advertisement
Recipe Continues Below
Preparation
In 1-quart saucepan, mix lime juice, water and sugar. Cook over low heat about 5 minutes, stirring occasionally, until sugar is dissolved. Cool slightly, about 5 minutes.
In blender or food processor, place watermelon. Cover; blend on high speed about 2 minutes or until smooth. Add lime juice mixture; blend until well mixed. Pour into ungreased 13x9-inch glass baking dish. Cover; freeze 1 hour.
Scrape with fork to distribute ice crystals evenly. Every 30 minutes, repeat scraping procedure for at least 3 hours until mixture is consistency of fine ice crystals. Scoop into chilled dessert cups to serve.
Expert Tips
For a fun presentation, serve your Watermelon Granitas in unbreakable stemmed beverage glasses.
A granita is an ice dessert made of a combination of water, sugar and liquid flavoring. Follow this Watermelon Granita recipe, and you'll end up with a dessert that's a bit grainier than a sorbet—very similar to a slush.
Nutrition
1 Cup Calories 70 (Calories from Fat 0); Total Fat 0g (Saturated Fat 0g ,Trans Fat 0g); Cholesterol 0mg; Sodium 0mg; Potassium 105mg; Total Carbohydrate 17g (Dietary Fiber 0g ,Sugars 16g); Protein 0g
% Daily Value: Vitamin A 10%; Vitamin C 15%; Calcium 0%; Iron 0%
Exchanges: 1/2 Fruit; 1/2 Other Carbohydrate
Carbohydrate Choice: 1
*Percent Daily Values are based on a 2,000 calorie diet