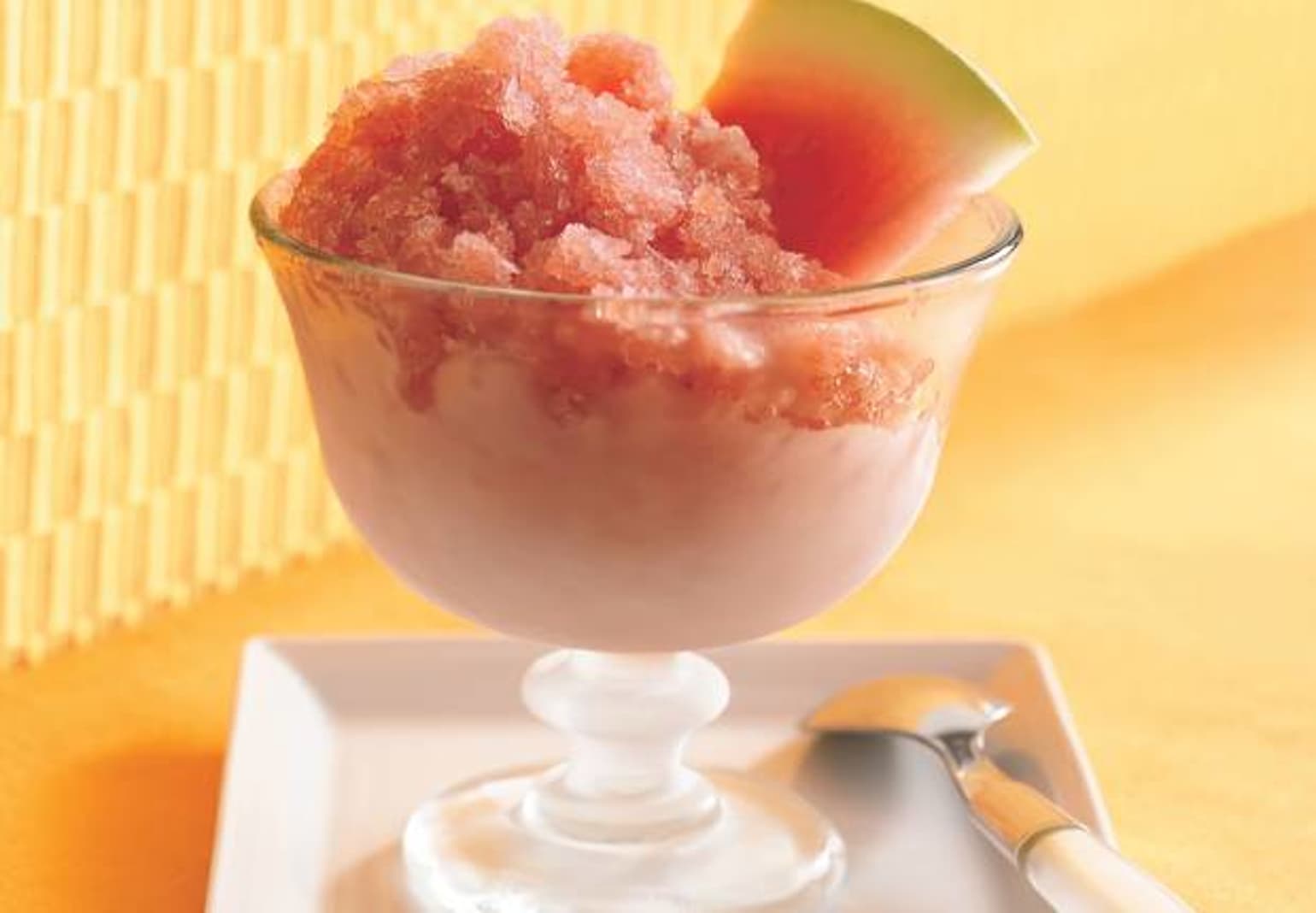 Ingredient List
3 tablespoons lime juice (juice of 2 to 3 limes)
1 cup water
1/2 cup sugar
6 cups 1-inch cubes seeded watermelon
Advertisement
Recipe Continues Below
Preparation
In 1-quart saucepan, mix lime juice, water and sugar. Cook over low heat about 5 minutes, stirring occasionally, until sugar is dissolved. Cool slightly, about 5 minutes.
In blender or food processor, place watermelon. Cover; blend on high speed about 2 minutes or until smooth. Add lime juice mixture; blend until well mixed. Pour into ungreased 13x9-inch glass baking dish. Cover; freeze 1 hour.
Scrape with fork to distribute ice crystals evenly. Every 30 minutes, repeat scraping procedure for at least 3 hours until mixture is consistency of fine ice crystals. Scoop into chilled dessert cups to serve.
Expert Tips
For a fun presentation, serve the granita in unbreakable stemmed beverage glasses. A granita is an ice dessert made of a combination of water, sugar and liquid flavoring. The texture will be grainier than a sorbet--very similar to a slush.
Nutrition
Calories70(Calories from Fat0),Total Fat0g(Saturated Fat0g,Trans Fat0g),Cholesterol0mgSodium0mgTotal Carbohydrate17g(Dietary Fiber0g Sugars16g),Protein0g;% Daily Value*:Vitamin A10%;Vitamin C15%;Calcium0%;Iron0%; Exchanges:0 Starch; 1/2 Fruit; 1/2 Other Carbohydrate; 0 Skim Milk; 0 Low-Fat Milk; 0 Milk; 0 Vegetable; 0 Very Lean Meat; 0 Lean Meat; 0 High-Fat Meat; 0 Fat; Carbohydrate Choices:1 *Percent Daily Values are based on a 2,000 calorie diet.