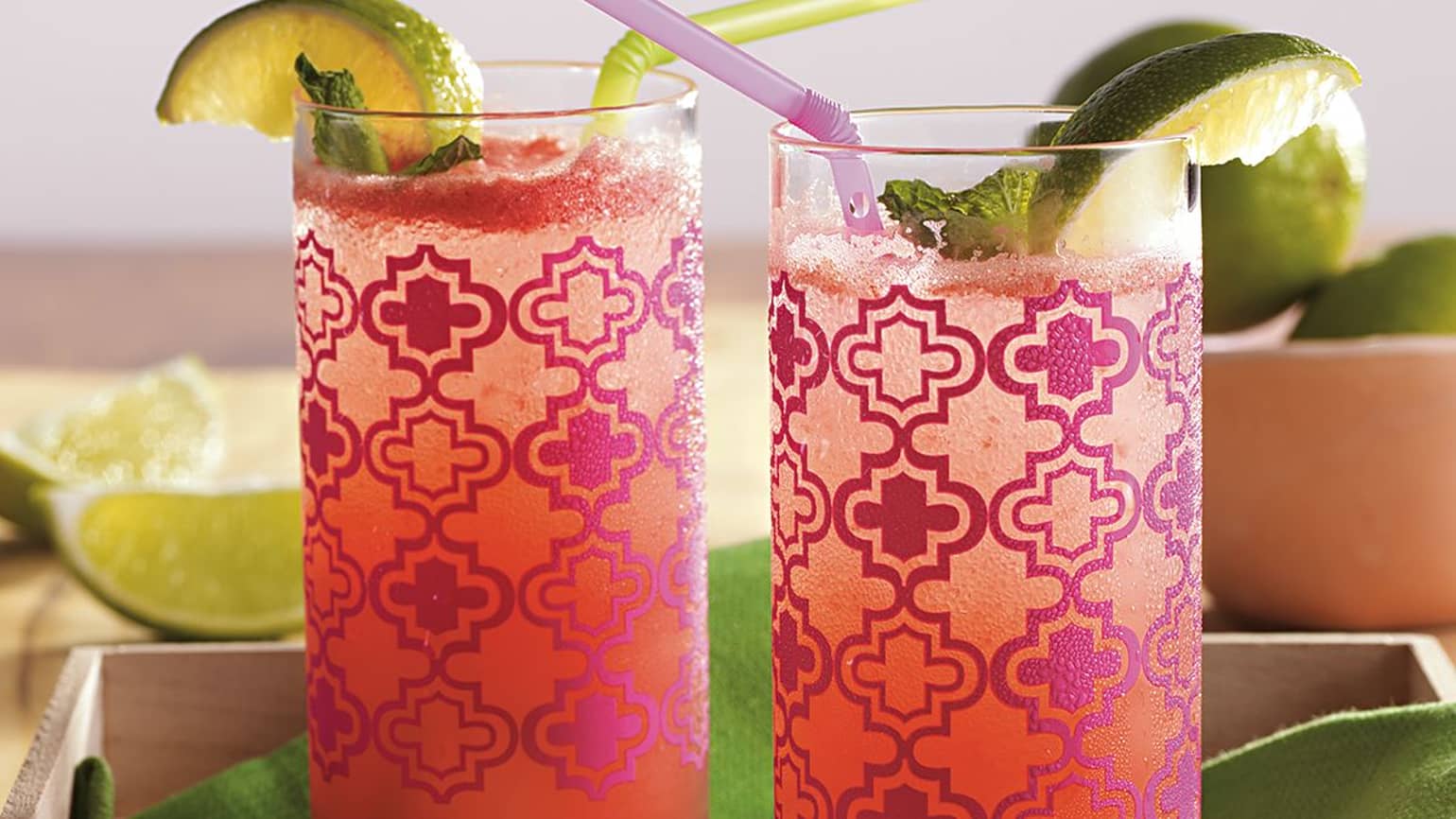 Watermelon Mojito
Fresh watermelon juice adds a refreshing twist to a traditional Cuban mojito. If you ask us, this is the best Watermelon Mojito recipe around—because it's ready in just 10 minutes! Simple, quick and delicious? Sign us up! Let's learn how to make a Watermelon Mojito.
Ingredient List
2 cups cubed seeded watermelon
2 cups lime-flavored sparkling water
1 cup white rum
1/4 cup frozen (thawed) limeade concentrate
1/4 cup fresh mint leaves
Crushed ice
4 lime wedges
Advertisement
Recipe Continues Below
Preparation
In food processor, place watermelon. Cover; process until smooth. Into large pitcher, strain watermelon puree; discard solids. Add sparkling water, rum and limeade concentrate; stir until concentrate is dissolved.
In each of 4 tall straight glasses, muddle 1 tablespoon mint leaves in bottom of glass. Add crushed ice to glasses; pour watermelon mixture over ice. Garnish with lime wedges.
Expert Tips
A mojito is a traditional Cuban highball made with rum, lime juice, simple syrup, sparkling water and mint. This Watermelon Mojito recipe adds a flavor twist with fresh watermelon juice.
Nutrition
1 Cup Calories 208 (Calories from Fat nc); Total Fat 0g (Saturated Fat 0g ,Trans Fat ncg); Cholesterol ncmg; Sodium 24mg; Potassium ncmg; Total Carbohydrate 17g (Dietary Fiber 0g ,Sugars ncg); Protein 0g
% Daily Value: Vitamin A 0%; Vitamin C 0%; Calcium 0%; Iron 0%
Exchanges: nc Starch; 1/2 Fruit; 1/2 Other Carbohydrate; nc Skim Milk; nc Milk; nc Vegetable; nc Very Lean Meat; nc Lean Meat; nc High-Fat Meat; nc Fat
Carbohydrate Choice: 1
*Percent Daily Values are based on a 2,000 calorie diet