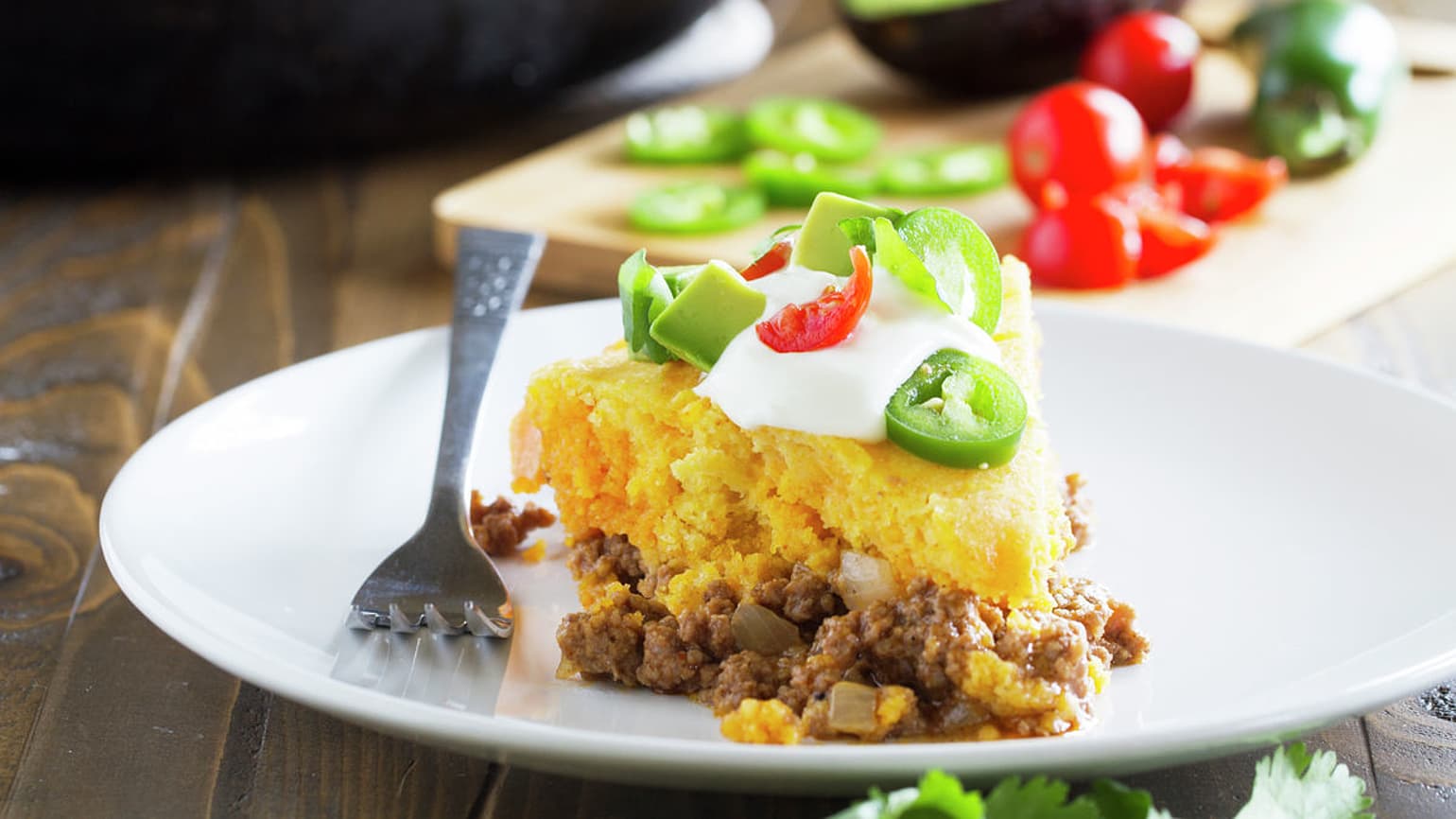 Weeknight Tamale Pie
This one skillet Weeknight Tamale Pie is perfect for crazy nights. you only have the one skillet plus the prep dishes to clean up. And you have time to take care of all of the prep dishes while the tamale pie is in the oven. It's a win for dinnertime and a win for cleanup! And let's not forget that this Weeknight Tamale Pie is completely delicious to top it all off. Each person can add their desired toppings, which also makes dinner fun!
Ingredient List
1 1/2 lbs ground beef
1/2 cup chopped onion
2 teaspoons from 1 container (6.25 oz) Old El Paso™ Original Taco Seasoning Mix
1 teaspoon garlic powder
1 can (10 oz) Old El Paso™ Mild Red Enchilada Sauce
1/2 cup all-purpose flour
1/2 cup yellow cornmeal
2 teaspoons from 1 container (6.25 oz) Old El Paso™ Original Taco Seasoning Mix
1 teaspoon baking powder
1/2 teaspoon salt
1 egg
1/2 cup buttermilk
1/3 cup sour cream
2 tablespoons melted butter
1 tablespoon honey
2 cups shredded cheddar cheese
Desired toppings (jalapeños, avocados, tomatoes, cilantro, sour cream, etc.)
Advertisement
Recipe Continues Below
Preparation
Preheat the oven to 350° F. Place an oven-safe skillet over medium heat. Add the ground beef and start to brown, breaking it up as it cooks. When it is almost cooked through, add the onions, taco seasoning and garlic powder and continue to cook until the beef is completely browned and cooked.
Pour in the enchilada sauce, the reduce the heat to a simmer. Simmer until slightly thickened, about 10 minutes.
While the beef simmers, prepare the cornbread topping. In a large bowl, stir together the flour, cornmeal, taco seasoning, baking powder and salt. Make a well in the center and add the egg and lightly beat it with a fork to break it up. Add the buttermilk, sour cream, melted butter and honey and stir just until combined. Stir in 1 cup of the cheese.
When the beef is finished, sprinkle the remaining 1 cup of cheese over the top. Dollop the cornbread topping over the top, then gently spread into an even layer. Bake the pie in the oven until the topping is set, 20-25 minutes.
Let the tamale pie sit for about 10 minutes before cutting into wedges to serve. Top with desired toppings.
Nutrition
*Percent Daily Values are based on a 2,000 calorie diet