How To Make Birria Tacos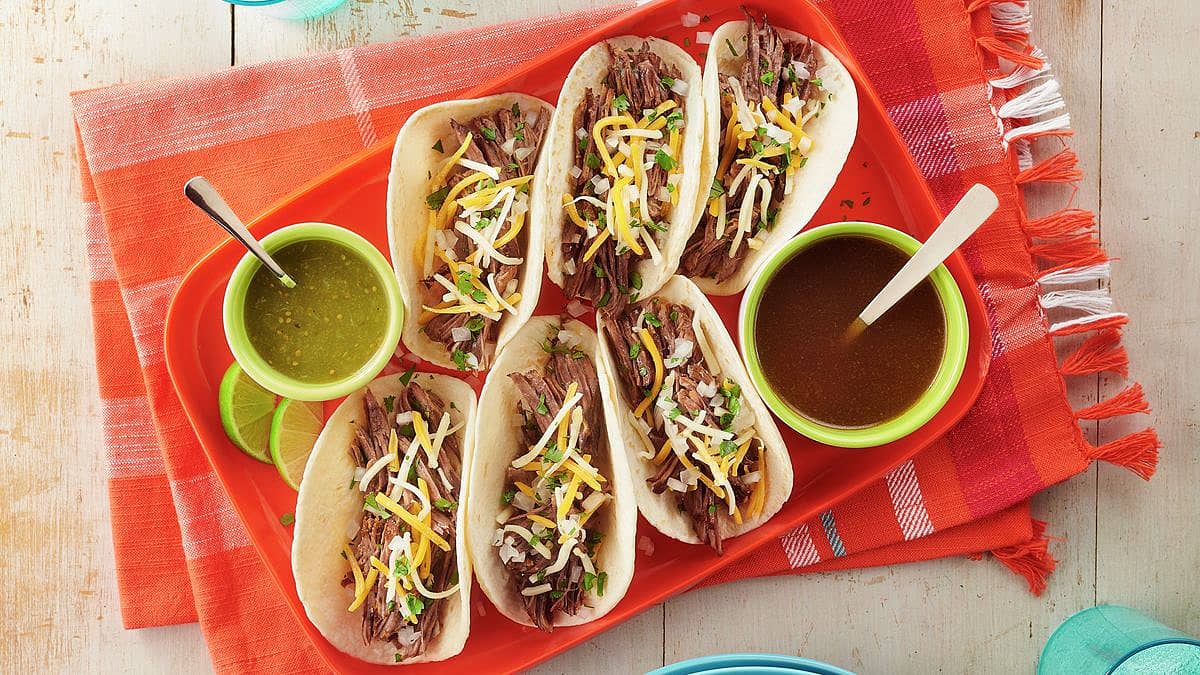 What are Birria Tacos?
In recent years, the birria taco craze has taken over Americans' hearts, palates and Instagram feeds. But what is it? Traditional birria is a braised goat or beef stew from the state of Jalisco in Mexico. The dish combines toasted dried chiles, fire-roasted fresh chiles, onion, garlic, ginger, oregano, sesame seeds, cumin, cinnamon, bay leaves, other seasonings, and vinegar for the adobo sauce that the meat slowly stews in. Braising involves searing the seasoned meat, then simmering in a flavorful liquid until meltingly tender.
And the beauty of braising big pieces of meat? They make their own sauce. It's like the BOGO of the food world. Just shred the meat and strain the cooking liquid (or don't) for an easy dipping sauce.
There are now several ways you can utilize this delicious meat for mealtime. This new incarnation of birria is basically braised beef that's tucked into tacos and served as-is or topped with cheese and griddled for crispy quesadillas called "quesabirria."
What ingredients do you need?
While traditional birria requires several types of dried chiles, a slew of different seasonings, and huge slabs of bone-in goat or beef, our simplified slow-cooker version uses boneless beef chuck roast, onion, garlic, canned chipotles, and Old El Paso™ seasoning for a savory birria that's low on effort, but big on flavor.
What types of meat can you use?
Traditional birria began using goat or beef, but there are also versions with sheep, lamb, and pork. Our easy slow-cooker version uses a boneless beef chuck roast that's great for families.
Cooking methods for birria tacos
While this dish originated on the stovetops of Mexico and can definitely still be made in a Dutch oven, like most braises, it's a natural fit for the slow cooker or a pressure cooker.
How to make tacos birria at home: Step by step
Kick your taco night up a notch with this trendy dish. Our Slow-Cooker Birria Beef Tacos make it easy with the help of Old El Paso's™ Barbacoa Beef Street Taco Kit, which includes seasoning, tortillas, and salsa verde for serving.
Instructions
Combine onions, canned chipotle chiles, garlic, seasoning, water, and salt in a large slow cooker.
Brown boneless beef chuck roast in oil in a large skillet on both sides. Add the seared beef to the mixture in the slow cooker and cook on low until the beef is tender.
Cool slightly, then shred the beef, discarding any pieces of fat. Toss the beef with some of the cooking liquid and reserve the remaining cooking liquid for dipping.
Fill the tortillas with beef, shredded cheese, diced onions, and fresh cilantro. Serve with salsa verde, reserved cooking liquid, and lime wedges.
How to make Quesabirria Tacos
Quesabirria tacos are a cheesy quesadilla take on birria. Here's how to make them at home:
Simply top a tortilla with the shredded birria meat and some shredded Monterey Jack, Colby Jack, or Cheddar cheese, then fold in half and brush the outside with some of the braising liquid.
Griddle or pan-fry on both sides until the cheese melts and the outside crisps and browns.
Reheat the reserved cooking liquid, place it in a small bowl for dipping and serve with finely chopped white onion, fresh cilantro, and lime wedges.
How to level up your birria tacos
Consommé is one of the key features of birria tacos — it's the cooking liquid left behind, and you can take it straight from the pot and use it as a dipping sauce. If you have time, strain the hot braising liquid and discard the solids.
Bring in your favorite taco toppings for even more flavor. You can upgrade your tacos with salsa, pico de Gallo, crema Mexicana or guacamole.
If you have leftover birria meat, get creative and try it in other recipes your family loves, like burritos, cheesy rice bowls, or tortas.