How to Make Tacos in 10 Minutes
Tacos are always a good idea, but what happens when you only have 10 minutes to get your meal together? That's where we come in. So, let's taco 'bout easy to make tacos!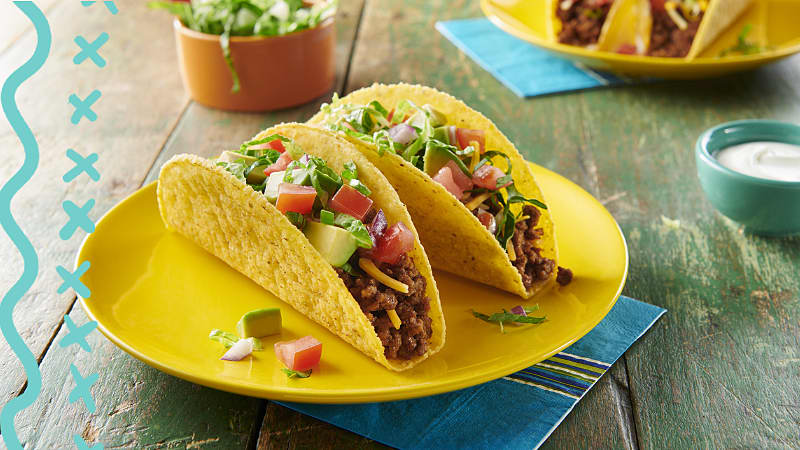 Grab Your Ingredients:
First things first, decide on the meat or protein you want to use in your tacos. Are you feeling chicken, ground beef, or maybe a veggie protein? Once you've nailed that down, next decide on toppings. From cheese, salsa, lettuce, squeeze sauces, and more, there are no wrong answers when it comes to toppings.
For a quick boost of flavor that's also fuss-free, we love using Old El Paso's squeeze sauces. The Creamy Salsa Verde Sauce packs a little heat, while Zesty Ranch and Creamy Queso are a perfect kid-friendly topping for nachos, bowls, and more.
Now that you have your ingredients ready, let's get going!
Prep Meat Ahead of Time:
Make your quick tacos even quicker with a little work ahead of time or even use the crockpot to do some of the heavy lifting.
Consider browning ground chicken, turkey, beef, or even a meat substitute Sunday night. Not only can this be used in tacos, but you'll have meat ready to go for a ton of other recipes throughout the week.
For make-ahead, easy, and delicious carnitas, put your crockpot to work, or if you're feeling fish, pop it in the air fryer. When that 'I don't feel like cooking' moment strikes or it's been a beyond-busy week, we've got a hack for that, too. Pick up a rotisserie chicken and make quick shredded chicken tacos!
Make It Fuss-Free!
To make dinner even easier for you, use one of Old El Paso's Tex-Mex Taco Kits! Our kits take the guesswork out of making tacos. We'll provide the base, seasoning, and sauce, and you just provide the protein and toppings. We love whipping out these kits when we don't feel like cooking, are under a time crunch, or when a taco craving hits. Hello, delicious and quick tacos!
Our fuss-free tips don't stop there! At your grocery store, pick up shredded lettuce and cabbage blends and take advantage of the deli section. Many stores offer fresh pico de gallo, sliced mangos, and cubed fresh pineapple. Easy, fresh taco toppings? Yes, please!
Spice It Up!
When it comes to toppings for your tacos, there are no limits. Try adding shredded cheese, sour cream, guac, salsa, beans, or one of our super tasty squeeze sauces.
Make this a family-friendly meal and get the kiddos involved! From older kids making guacamole to the younger kids getting the toppings out, putting the beans in bowls, and setting the table, there's a job for everyone!
Try these products for super easy weeknight tacos:
If you have a little more time, these 30-minute meals are family faves for a reason: