Meatless Tex-Mex Recipes the Family Will Love
Looking for new recipes for 'Meatless Monday'? Following a plant-based diet? Just feeling a veggie moment? We got you. Plant-based diets don't mean giving up on your Tex-Mex cravings. That's why we've rounded up some of our favorite meat substitutes and protein alternatives to meat.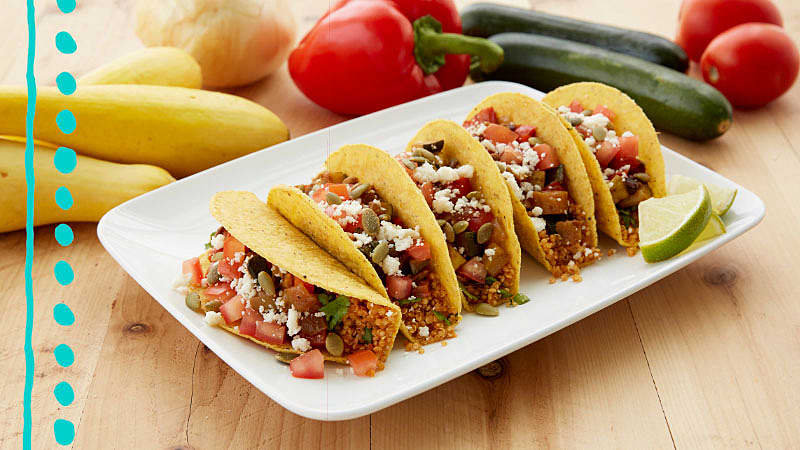 Chickpeas
Chickpeas (also called garbanzo beans) are a great substitute for chicken and take on spices and flavors really well. They're super simple to make and work perfectly in tacos, burritos, or bowls. So, next time you're looking for a chicken substitute, give them a try!
Just heat your preferred oil in a nonstick skillet, add two cans of rinsed and drained chickpeas and cook until they're beginning to brown. Next, stir in about a cup of water and your taco seasoning mix. While designed for chicken, the Old El Paso™ Chicken Taco Seasoning Mix is delicious in vegetarian dishes and does not contain animal products.
Finally, let your mixture simmer uncovered, and don't forget to stir them frequently! You'll know the chickpeas are done when the sauce is thickened and the beans are tender enough to mash with a spatula. Now for the hard part- What recipe will you try first?
Our taco-spiced chickpeas work great in these recipes:
Tofu
You're probably not surprised to see this meat substitute make our list. It's a classic for a reason! From traditional tacos to the breakfast edition, tofu is a great alternative due to its versatile nature; you can sauté it or bake it with oil and seasonings till it's crispy.
If you're new to working with tofu, hang tight. We'll walk you through just what you need to know about this substitute MVP. Start by removing the tofu from the package, draining it, and patting it dry with a paper towel. Your goal is to remove as much moisture as possible. Next, cut it into bite-sized cubes and heat some oil in a nonstick pan. Now for the fun part, add that tofu into your skillet and cook for several minutes without moving it! This will help achieve a nice golden brown on the bottom. Then stir and cook the tofu until all sides are golden brown. Add half a package of taco seasoning and half a cup of water to your tofu and bring it to a boil. Finally, reduce heat and simmer until the liquid is absorbed. Hello, perfect tofu!
Our taco-spiced tofu works great in these recipes:
Quinoa
Not only do we love the texture that Quinoa provides, but it's also a fantastic ground beef substitute for your fave Tex-Mex recipes.
Start by heating your preferred oil in a nonstick skillet. When it's hot, add 3/4 cup of quinoa, then cook and stir until toasted. Next, you'll want to stir in 1 1/2 cups water and half a package of taco seasoning mix. Make sure to heat to boiling. Once boiling, reduce heat, cover, and simmer for about 15 minutes, or until all liquid is absorbed. Yup, it's that easy!
Our taco-spiced tofu works great in these recipes:
Jackfruit
Switch up your family dinners with jackfruit! It's a great substitution for barbecue pulled pork and chicken. Best part? It's also a natural fit for the robust flavors of Tex-Mex cooking and is perfect for nachos, tacos, or even a bowl.
If you're new to working with jackfruit, it's not as hard as you think and is probably available at your local grocery store. We'll show you how easy it is. We promise.
Start by rinsing and draining two cans of jackfruit and pat it dry. Next, heat your preferred oil in a skillet and add your jackfruit. Using a wooden spoon or heatproof spatula, stir it occasionally until the edges start to brown. Now stir in your taco seasoning mix and 2/3 cup water! Let your mixture simmer and then reduce the heat and cook it uncovered. Remember to stir frequently and break up your jackfruit with a spoon until your mixture is shredded and liquid is absorbed.
If you're using this to replace shredded barbecue pork or chicken, add just enough bottled barbecue sauce to your mixture to coat it. When we say the smell is epic, we're not kidding.
Our taco-spiced jackfruit works great in these recipes:
Cauliflower
Who thought this little veggie could fuel your Tex-Mex cravings? We did! From Tex-Mex to Nashville hot chicken to even Buffalo wings, cauliflower is a standout star thanks to its knack for taking on a variety of flavors.
Swap out the chicken and roast some cauliflower instead! Start by lining a rimmed sheet pan with foil. Then, in a large bowl, mix a few tablespoons of olive oil and half a package of taco seasoning, and add your cauliflower florets from one head (about 6 cups). Next, toss them until they're evenly coated, spread the mixture onto your pan, and roast uncovered in a 400°F oven for 25 to 30 minutes or until cauliflower is tender. Now all that's left to do is enjoy. Your family will love it.
Our taco-spiced cauliflower works great in these recipes:
CHICKEN AND BLACK BEAN SPICY TACOS
From zesty new favorites to a fun twist on classic go-to, give your Tex-Mex dinners a fresh, new take with one of these veggie-packed meals. Your family won't even miss the meat; these dishes are that good.