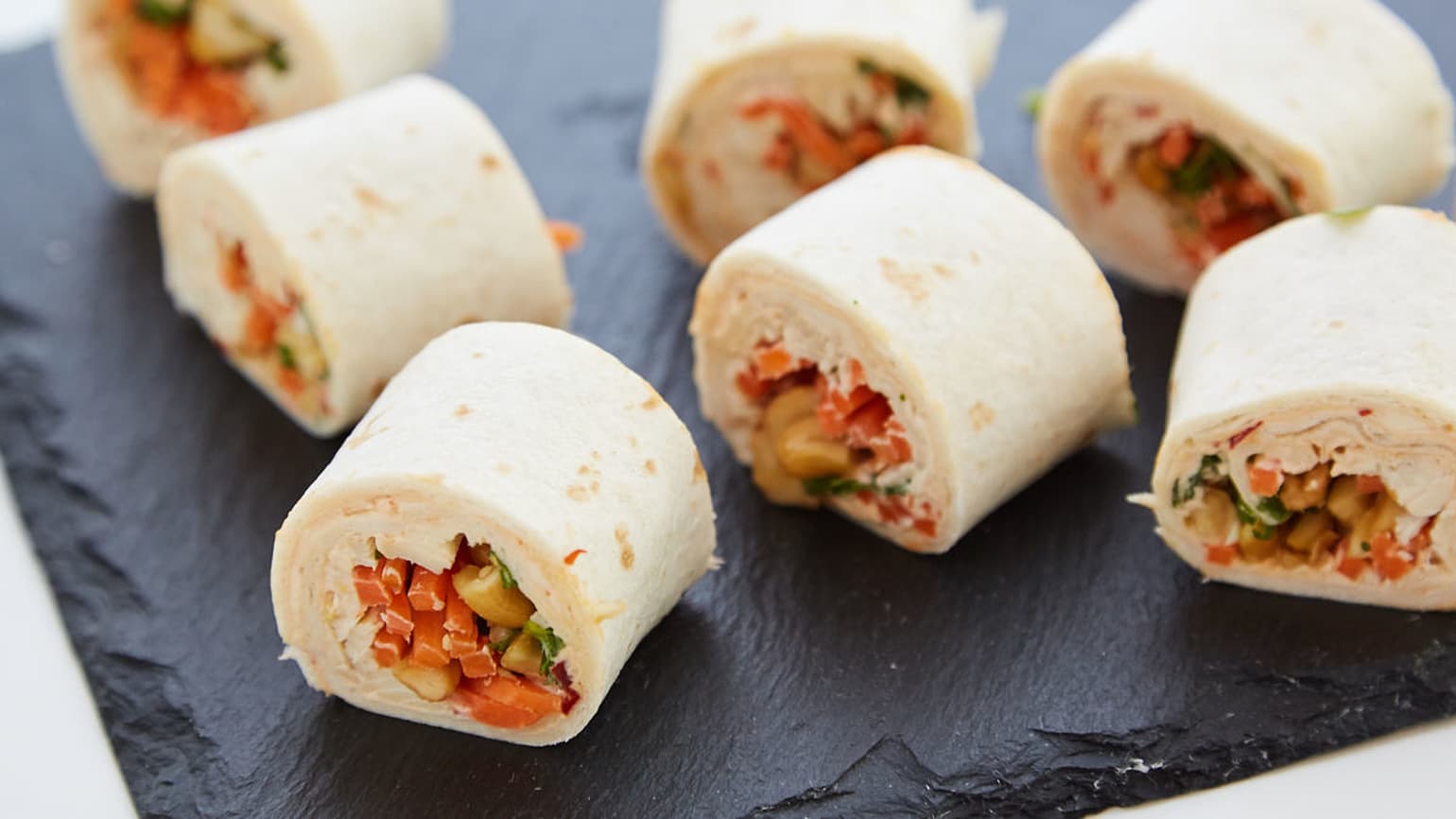 Asian Chicken Salad Appetizers
These chicken salad snacks pack a flavorful crunch in every bite. Chicken, carrots, cashews and a chile-soy-ginger-spiked cream cheese are what give this appetizer its killer flavor. Warning: You won't be able to eat just one. But the good news is that this recipe makes plenty of Asian Chicken Salad Appetizers to go around!
Ingredient List
1 container (8 oz) cream cheese spread, softened
2 tablespoons chile paste, such as sambal oelek
1 tablespoon soy sauce
2 teaspoons packed brown sugar
1 teaspoon chopped fresh gingerroot
1 package (11 oz) Old El Paso™ flour tortillas for burritos (8 tortillas; 8 inch)
2 cups chopped deli rotisserie chicken
1 1/2 cups shredded carrots
1/2 cup chopped salted cashews
1/2 cup chopped fresh cilantro leaves
1/2 cup chopped green onions
Advertisement
Recipe Continues Below
Preparation
In medium bowl, mix cream cheese spread, chile paste, soy sauce, brown sugar and gingerroot. Divide mixture among tortillas, spreading evenly over tortillas, leaving 1/2-inch border. Top half of each tortilla with chicken, carrots, cashews, cilantro and green onions.
Starting from side with toppings, roll up very tightly. Wrap with plastic wrap. Refrigerate at least 2 hours but no longer than 24 hours.
To serve, cut 1 inch from end of each roll, and discard. Cut each roll into 4 (1 1/2-inch) slices.
Expert Tips
Picking up ingredients for these chicken salad bites? Sambal oelek is an Asian condiment that can be found in the ethnic aisle of your grocery store.
One 8-oz package of cream cheese can be used instead of cream cheese spread. Soften cream cheese as directed on package.
If you want your chicken salad rolls to be less spicy, reduce the chile paste to 2 to 3 teaspoons.
Nutrition
1 Serving Calories 90 (Calories from Fat 40); Total Fat 4 1/2g (Saturated Fat 2g ,Trans Fat 0g); Cholesterol 15mg; Sodium 220mg; Potassium 75mg; Total Carbohydrate 7g (Dietary Fiber 0g ,Sugars 1g); Protein 4g
% Daily Value: Vitamin A 20%; Vitamin C 0%; Calcium 4%; Iron 4%
Exchanges: 1/2 Other Carbohydrate; 1/2 Lean Meat; 1/2 Fat
Carbohydrate Choice: 1/2
*Percent Daily Values are based on a 2,000 calorie diet