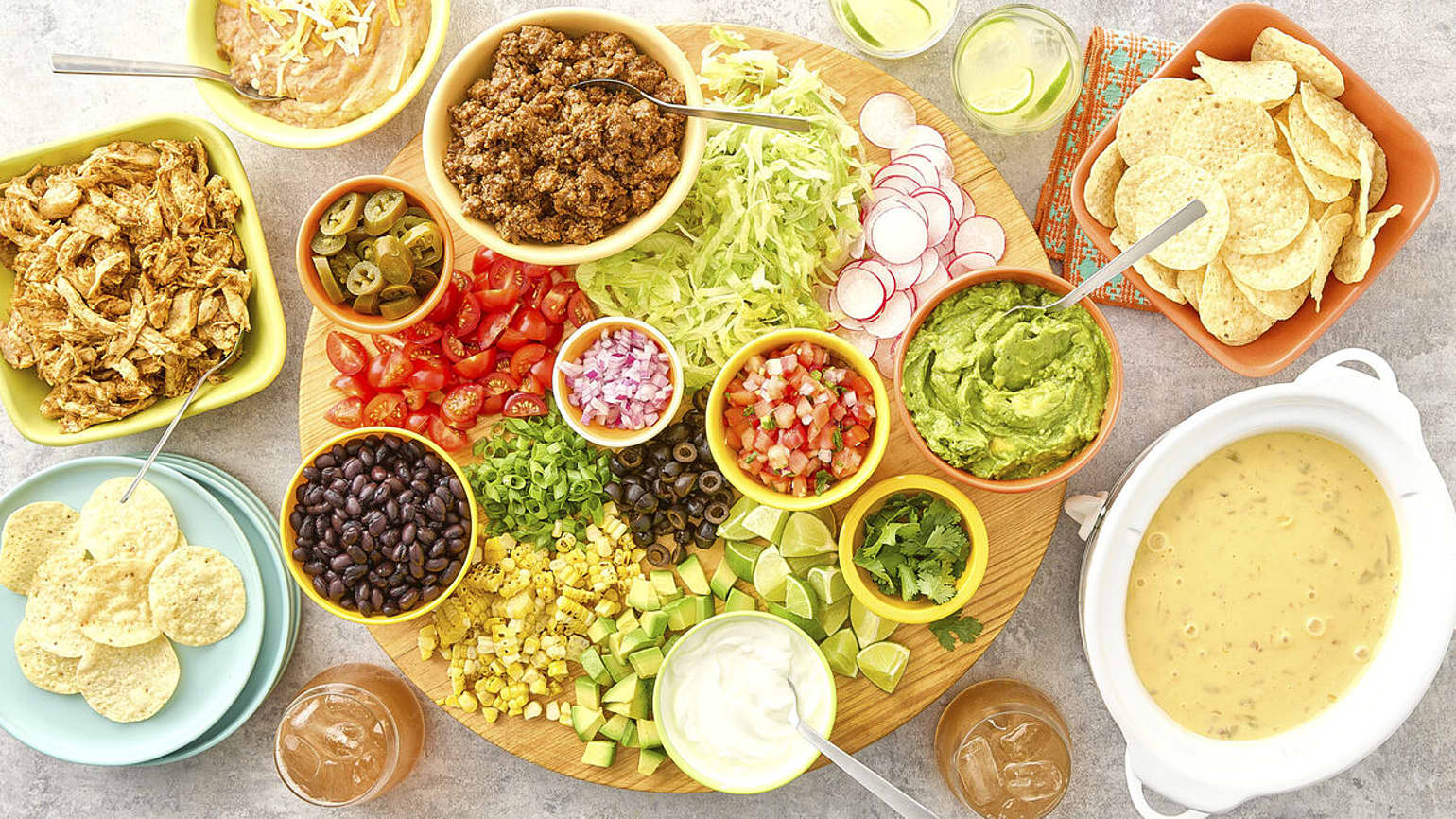 Build-Your-Own Nacho Board
Take your chip and dip game to the next level with a fully loaded DIY nacho board. At the center of our board is an easy, three-ingredient creamy queso dip. Then we surrounded it with tortilla chips and a ton of full-flavored fixings, like shredded cheese, guacamole,
Old El Paso™ sauces
and pico de gallo. This nacho board recipe is so simple, yet it will seriously impress your guests. If any go missing during halftime, don't be surprised to find them all huddled around this masterpiece!
Total Time
2 Hours
40 Minutes
Ingredient List
Queso Dip
1 lb Kraft™ Velveeta™ Cheese, cut into cubes
1 can (4.5 oz) Old El Paso™ Chopped Green Chiles, undrained
3/4 cup milk
Chicken
1 lb shredded cooked chicken (about 4 cups)
1 package (0.85 oz) Old El Paso™ Chicken Taco Seasoning Mix
1/4 cup water
Beef
1 lb ground beef (at least 80% lean)
1 package (1 oz) Old El Paso™ Original Taco Seasoning Mix
2/3 cup water
Chips
1 bag (11 oz) tortilla chips (about 12 cups), any variety
Beans and Cheese
1 can (16 oz) Old El Paso™ Traditional Refried Beans, heated as directed on can
1 package (7 oz) Old El Paso™ Shredded Mexican Style 4 Cheese Blend
Toppings, as desired
Guacamole
Sour cream
Pico de gallo salsa
Shredded lettuce
Sliced ripe olives
Thin-sliced green onions
Old El Paso™ Hot Jalapeño Slices
Old El Paso™ Creamy Salsa Verde Sauce
Advertisement
Recipe Continues Below
Preparation
In 2- to 3-quart slow cooker, place cubed cheese, green chiles and milk. Cover; cook on Low heat setting 2 to 3 hours or until cheese is melted. Stir until smooth. Keep on Warm setting for serving.
In 10-inch skillet, cook chicken, chicken taco seasoning mix and 1/4 cup water over medium heat 5 to 6 minutes, stirring frequently, until chicken is heated through. Remove from heat. Place chicken in serving bowl; cover to keep warm until ready to serve.
Meanwhile, carefully wipe out skillet. Heat over medium-high heat; add beef, and cook 5 to 7 minutes, stirring occasionally, until thoroughly cooked. Drain. Stir in original taco seasoning mix and 2/3 cup water; heat to boiling. Reduce heat; simmer uncovered 3 to 4 minutes, stirring frequently, until thickened. Place beef in serving bowl; cover to keep warm until ready to serve.
To serve, arrange queso dip in slow cooker, chicken and beef in serving bowls, and chips in serving bowl on board. Place refried beans, cheese and Toppings in bowls; arrange on board. Top each serving of nachos as desired.
Expert Tips
Like a lot of fresh toppings? Start prepping and chopping your toppings ahead of time so the nacho board is ready to serve as soon as the meats are cooked.
For best results, use at least 1% milk for the queso dip.
Swap any of the topping options for your own favorites, like chopped avocado, chopped tomatoes, chopped cilantro, black beans, corn, etc.
Nutrition
1 Serving Calories 740 (Calories from Fat 360); Total Fat 40g (Saturated Fat 17g ,Trans Fat 1g); Cholesterol 160mg; Sodium 2080mg; Potassium 660mg; Total Carbohydrate 46g (Dietary Fiber 4g ,Sugars 8g); Protein 47g
% Daily Value: Vitamin A 15%; Vitamin C 0%; Calcium 60%; Iron 25%
Exchanges: 1 1/2 Starch; 1 1/2 Other Carbohydrate; 2 1/2 Lean Meat; 2 High-Fat Meat; 1 1/2 Fat
Carbohydrate Choice: 3
*Percent Daily Values are based on a 2,000 calorie diet