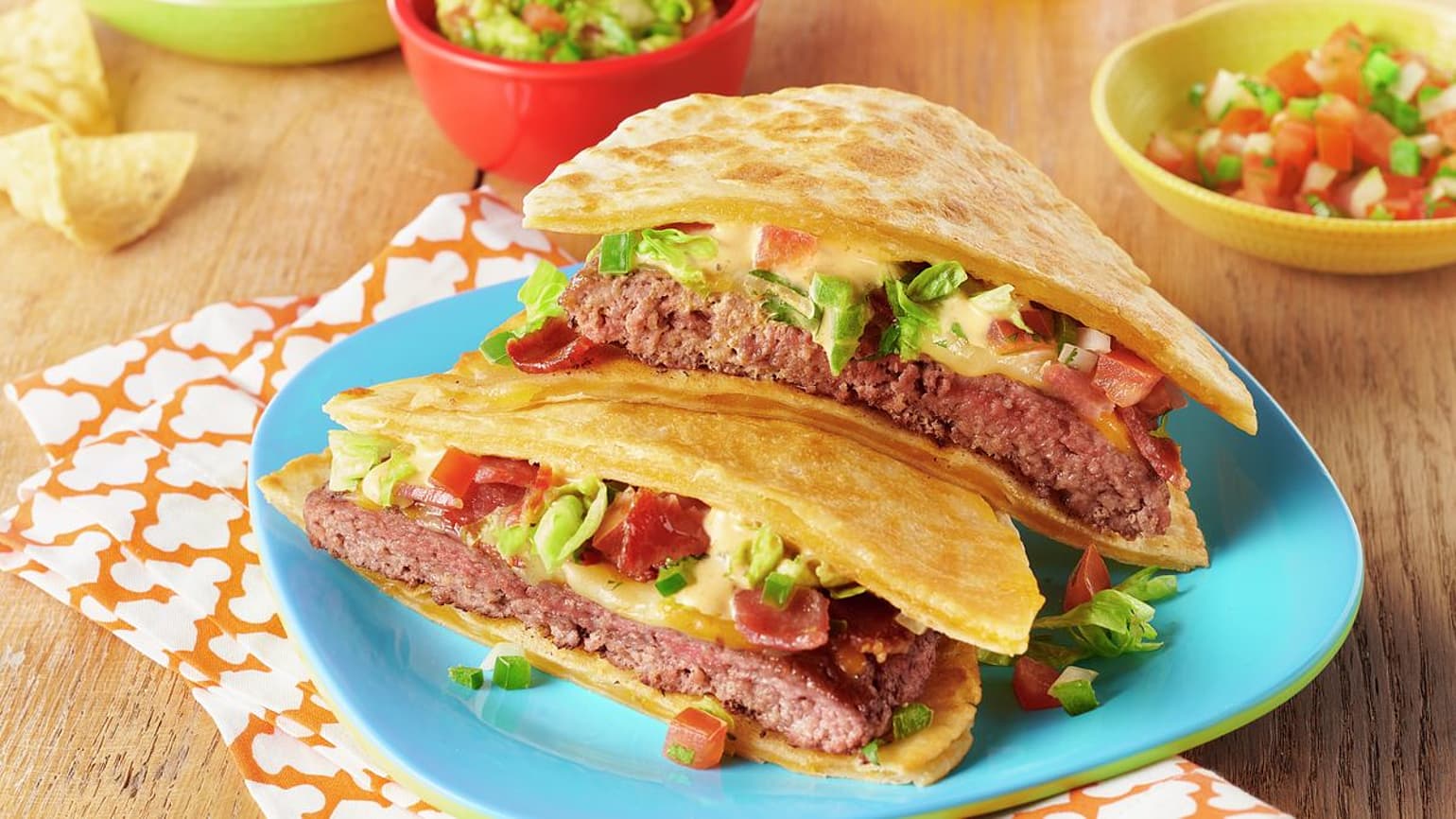 Copycat Applebees™ Quesadilla Burger
How can you make a juicy, pepper cheeseburger better? Top it with crumbled bacon and a zesty ranch sauce and serve in between two extra cheesy quesadillas. Part burger, part quesadilla, all taste. This Copycat Applebees™ Quesadilla Burger creation comes piled high with shredded cheese, our signature Old El Paso™ Zesty Ranch Sauce, crumbled bacon, and shredded lettuce served between quesadillas made with Old El Paso™ Flour Tortillas. Our version of the Applebees™ Quesadilla Burger is a must-have, and now you don't even have to leave the house to enjoy it.
Ingredient List
1 lb lean (at least 80%) ground beef
1/2 teaspoon salt
1/4 teaspoon pepper
2/3 cup from 1 package (7 oz) Old El Paso™ Shredded 3 Pepper Blend Cheese
8 Old El Paso™ Flour Tortillas For Soft Tacos & Fajitas (6 inch)
1 cup Old El Paso™ Shredded Mexican Style 4 Cheese Blend (from 8-oz package)
2 teaspoons vegetable oil
4 slices cooked bacon, crumbled
1/4 cup from 1 bottle (9 oz) Old El Paso™ Zesty Ranch Sauce
1/4 cup pico de gallo
1/2 cup shredded iceberg lettuce
Advertisement
Recipe Continues Below
Preparation
In medium bowl, gently mix beef, salt and pepper. Shape into 2 patties, 6 inches by about 1/2 inch thick.
Heat 12-inch nonstick skillet over medium-high heat. Place burgers in skillet; cook 4 minutes. Turn patties; cook 1 minute. Place 1/3 cup 3 pepper cheese blend on top of each burger; cover, and cook 1 to 2 minutes or until cheese is melted and meat thermometer inserted in center of patty reads 160°F. Transfer to plate and keep warm. Carefully wipe out skillet with paper towels.
Top 4 of the tortillas each with 1/4 cup Mexican style 4 cheese blend and one of the remaining 4 tortillas.
In 12-inch skillet, heat 1 teaspoon of the oil over medium heat. Place 2 quesadillas in skillet; cook about 1 minute or until light golden brown. Carefully turn quesadillas; cook 1 minute longer or until golden brown. Transfer quesadillas to two serving plates. Repeat with remaining quesadillas.
Place each burger on top of one of the warm quesadillas. Top each with half each of the bacon, zesty ranch sauce, pico de gallo and lettuce. Top each with another quesadilla. Cut in half, and serve immediately.
Expert Tips
Try not to overwork the beef when seasoning and forming the patties. A light touch will help to keep your burgers from being too dry and dense.
For extra juicy Copycat Applebees™ Quesadilla Burgers, use 80 to 85% lean ground beef.
Buying a whole head of lettuce and slicing it thinly yourself, as opposed to buying it preshredded in a bag, will help to guarantee a fresh, extra-crisp topping for this version of the Applebees™ Quesadilla Burger.
Got burgers on the mind? After you enjoy Copycat Applebees™ Quesadilla Burgers, enjoy another Tex-Mex twist with Mini Green Chile Bacon Burgers. It's perfect for a game-time app.
Nutrition
1 Burger Calories 1200 (Calories from Fat 680); Total Fat 75g (Saturated Fat 34g ,Trans Fat 1 1/2g); Cholesterol 250mg; Sodium 2440mg; Potassium 640mg; Total Carbohydrate 58g (Dietary Fiber 1g ,Sugars 4g); Protein 71g
% Daily Value: Vitamin A 15%; Vitamin C 4%; Calcium 70%; Iron 45%
Exchanges: 2 1/2 Starch; 1 Other Carbohydrate; 1/2 Vegetable; 3 High-Fat Meat; 4 Fat
Carbohydrate Choice: 4
*Percent Daily Values are based on a 2,000 calorie diet