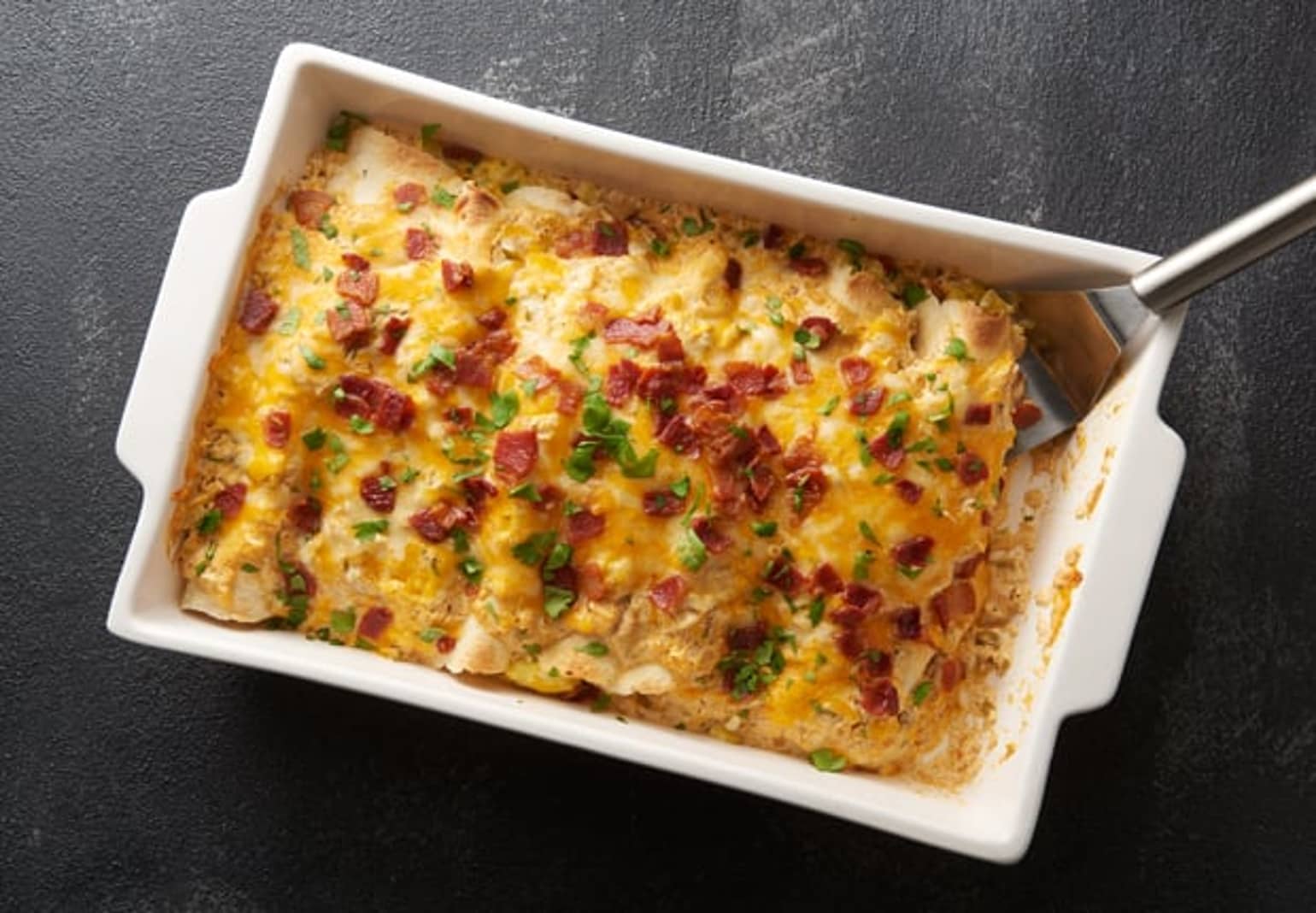 Creamy Bacon and Egg Breakfast Enchiladas
We're giving the classic bacon and egg scramble a big twist by rolling it up in tortillas and covering them with a green chile sour cream enchilada sauce. Our "twist" is sure to make you shout. See what we did there?
Ingredient List
1/2 teaspoon salt
1 medium onion, finely chopped
2 tablespoons Gold Medal™ all-purpose flour
1 package (0.85 oz) Old El Paso™ chicken taco seasoning mix
1 1/2 cups Progresso™ chicken broth (from 32-oz carton
1 1/2 cups sour cream
1 can (4.5 oz) Old El Paso™ chopped green chiles
15 slices bacon, cut into 1/2-inch pieces
10 eggs
1/4 cup half-and-half
1/2 teaspoon ground cumin
8 Old El Paso™ flour tortillas for burritos (8 inch)
2 cups shredded Mexican cheese blend (8 oz)
Cilantro leaves, if desired
Advertisement
Recipe Continues Below
Preparation
Heat oven to 350°F. Spray 13x9-inch (3-quart) baking dish with cooking spray.
In 2-quart saucepan, heat butter over medium heat. Add onion; cook about 4 minutes, stirring occasionally, until softened. Add flour and taco seasoning mix; cook 2 minutes. Beat in chicken broth with whisk; heat to boiling. Cook 1 to 2 minutes or until thickened. Remove from heat; stir in sour cream and green chiles. Set aside.
Meanwhile, in 12-inch skillet, cook bacon 6 to 7 minutes over medium heat, turning occasionally, until crisp. Remove bacon from skillet. Reserve 1 tablespoon drippings in skillet. Crumble bacon; set aside.
In medium bowl, beat eggs, half-and-half, salt and cumin with whisk until well blended. Cook in same skillet with drippings over medium heat 4 to 5 minutes, stirring frequently, until eggs are set.
Spread 1 cup of the sauce over bottom of baking dish. Fill each tortilla with about 1/2 cup eggs, 1 tablespoon bacon and 2 tablespoons cheese; roll up. Place seam side down on sauce in baking dish. Pour remaining sauce over filled tortillas. Top with remaining cheese and bacon.
Bake 20 to 25 minutes or until thoroughly heated and bubbly. Garnish with cilantro leaves.
Expert Tips
Diced red onions and avocado make a nice garnish in addition to the cilantro.
If would like to add a little more heat to your breakfast enchiladas, finely chop a serrano chile, and add to the onion in the sauce.
Nutrition
1 Serving: Calories 1070; Calories from Fat 650; Total Fat 72g; Saturated Fat 35g; Trans Fat 3g; Cholesterol 615mg; Sodium 2770mg; Potassium 580mg; Total Carbohydrate 57g; Dietary Fiber 1g; Sugars 10g; Protein 48g; % Daily Value*: Vitamin A 45%, Vitamin C 10%, Calcium 70%, Iron 30% Exchanges:3 Starch; 0 Fruit; 0 Other Carbohydrate; 0 Skim Milk; 1 Low-Fat Milk; 0 Milk; 0 Vegetable; 0 Very Lean Meat; 0 Lean Meat; 1 1/2 High-Fat Meat; 7 1/2 Fat; *Percent Daily Values are based on a 2,000 calorie diet.