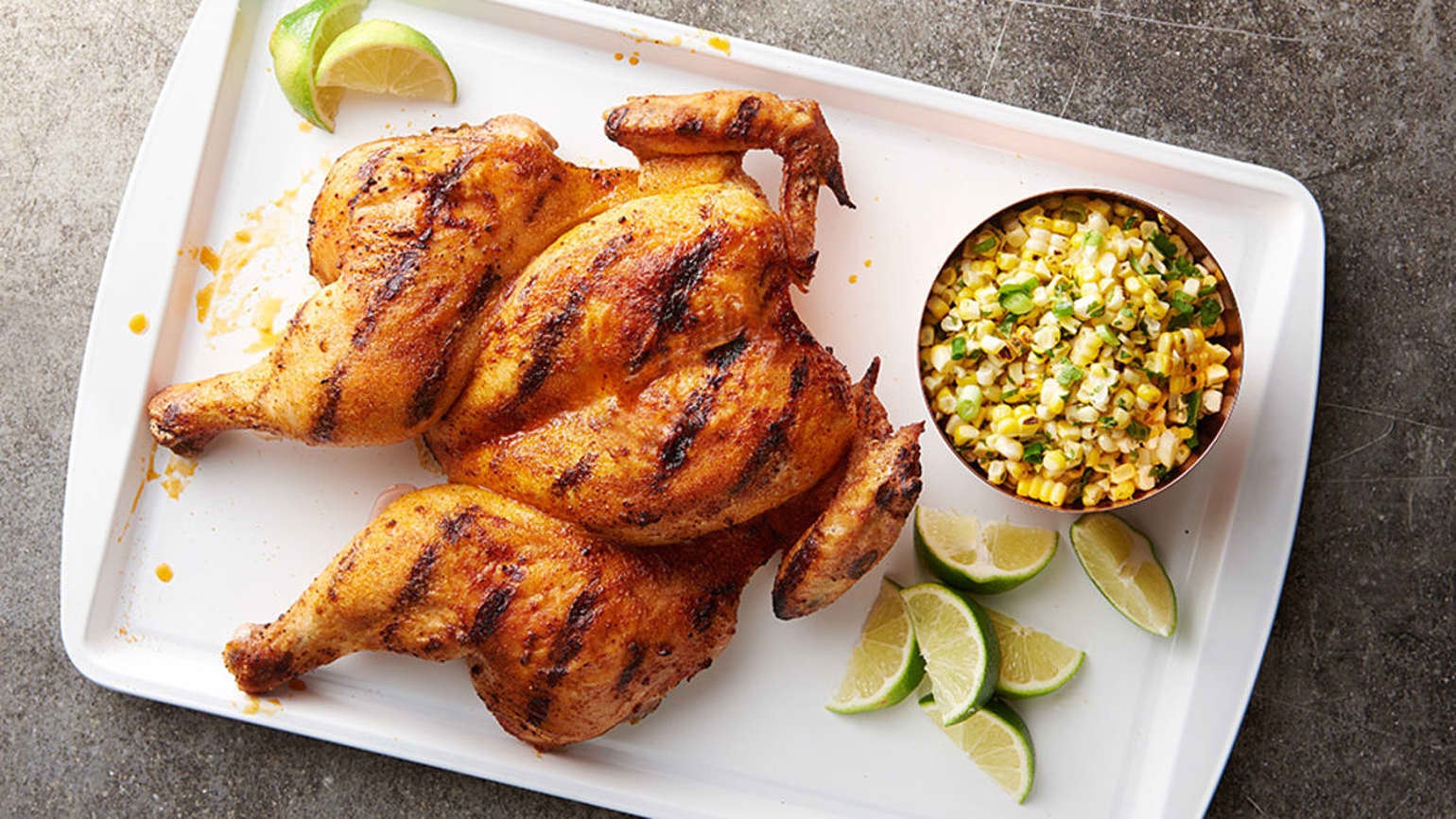 Grilled Spatchcock Chicken with Corn Salad
Once you go spatchcock, you never go back! Removing the backbone with scissors ensures quick, even cooking, and this chicken's spicy grilled flavor can't be beat.
Ingredient List
2 tablespoons vegetable oil
1 package (0.85 oz) Old El Paso™ taco seasoning mix chicken
1 whole chicken (3 to 4 lb)
4 ears fresh sweet corn, husks removed, cleaned
2 tablespoons butter, melted
2 tablespoons fresh lime juice
1/4 cup chopped fresh cilantro leaves
2 green onions, thinly sliced
1/4 teaspoon salt
1/4 teaspoon ground black pepper
Lime wedges
Advertisement
Recipe Continues Below
Preparation
Heat gas or charcoal grill. In small bowl, mix oil and taco seasoning mix. Set aside.
Place chicken, breast side down, on cutting board. Using kitchen scissors, cut along one side of backbone, starting at thigh and working up toward wing. Repeat on other side of backbone; remove backbone from chicken. Discard backbone, or reserve for making stock. Turn breast side up, and press down firmly on breastbone until chicken flattens. Brush chicken all over with oil mixture.
Place chicken on grill, breast side down, over medium heat. Cover grill; cook 8 minutes, then turn 90 degrees, and cook, covered, 8 minutes longer. Turn breast side up, and cook, covered, 11 to 17 minutes longer or until instant-read thermometer inserted in thickest part of thigh reads at least 165°F. Transfer to cutting board. Rest, tented with foil, 5 minutes. Carve chicken into 8 serving pieces.
Meanwhile, brush corn with melted butter. Place corn on grill. Cover grill; cook 12 to 14 minutes, turning occasionally, until browned in spots. Transfer to cutting board; let stand 5 to 7 minutes or until cool enough to handle. Cut kernels from ears of corn. Discard cobs. In medium bowl, mix corn kernels, lime juice, cilantro, green onions, salt and pepper. Serve chicken with corn salad and lime wedges.
Expert Tips
Save the backbone and carcass of the chicken for stock. You can also save the corn cobs to make a corn stock for polenta, risotto, pasta or sauces.
Need some cheese in your corn salad? Stir in a little queso fresco.
Nutrition
1 Serving Calories 500 (Calories from Fat 220); Total Fat 24g (Saturated Fat 8g ,Trans Fat 1/2g); Cholesterol 135mg; Sodium 730mg; Potassium 600mg; Total Carbohydrate 27g (Dietary Fiber 3g ,Sugars 6g); Protein 43g
% Daily Value: Vitamin A 20%; Vitamin C 10%; Calcium 4%; Iron 15%
Exchanges: 2 Starch; 5 Very Lean Meat; 4 Fat
Carbohydrate Choice: 2
*Percent Daily Values are based on a 2,000 calorie diet