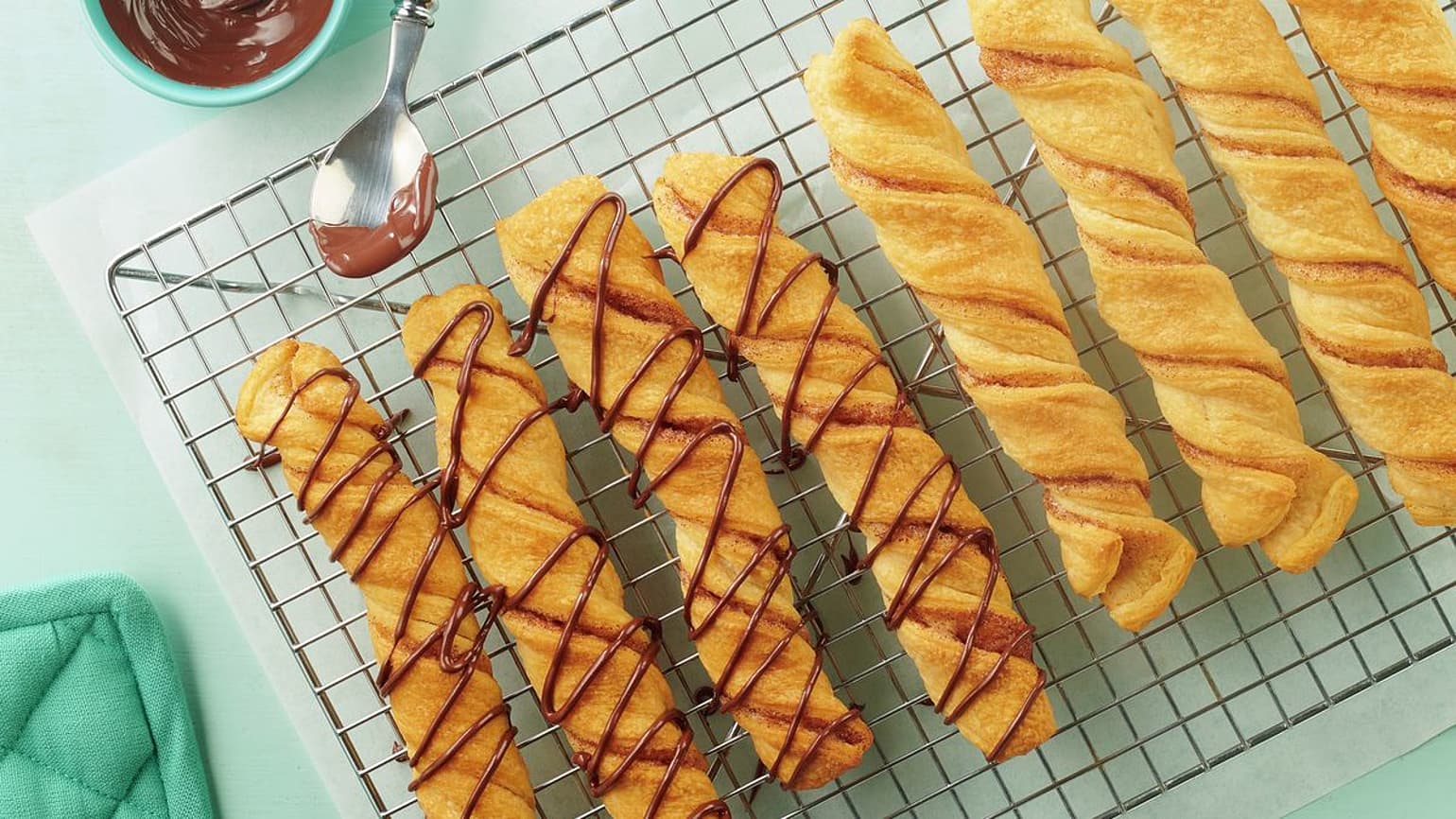 Homemade Baked Churros
These homemade churros take just 15 minutes of prep time so that you can enjoy the flavor of classic Mexican churros without all the frying fuss. What's the trick? Use Pillsbury™ Crescent Rolls to turn them into crescent churros! They're simple to pull together; brush the crescent rolls with butter, sprinkle with cinnamon sugar, and twist for a fun and easy way to make a churro. Melted chocolate adds even more decadence to this sweet baked churros treat.
Ingredient List
1 tablespoon sugar
1/2 teaspoon ground cinnamon
1 can (8 oz) refrigerated Pillsbury™ Crescent Rolls (8 count)
1 tablespoon butter, melted
1/4 cup semisweet chocolate chips
Advertisement
Recipe Continues Below
Preparation
Heat oven to 375°F. In small bowl, mix sugar and cinnamon; set aside.
On lightly floured work surface, unroll dough; press into 13x8-inch rectangle. Firmly press perforations to seal. Brush top of dough with some of the melted butter. Sprinkle cinnamon sugar on one half of short side of rectangle.
Fold dough over top. Press to seal. With rolling pin, lightly roll dough to press layers together. Brush remaining butter on top. With sharp knife or pizza cutter, cut lengthwise into 8 strips. Twist each strip 3 times; place on ungreased large cookie sheet.
Bake 13 to 15 minutes or until golden brown. Remove from cookie sheet to cooling rack. Cool 5 minutes.
Meanwhile, in small microwavable bowl, microwave chocolate chips uncovered on High 60 seconds, stirring halfway through, until chips can be stirred smooth. Spoon into resealable food-storage plastic bag; partially seal bag. Cut small tip from corner of bag; drizzle melted chocolate over tops.
Expert Tips
Traditional churros are strips of dough that are deep-fried and rolled in cinnamon and sugar. We simplify them by sprinkling cinnamon sugar on crescent dough, twisting it into strips, and baking.
For a more casual look for your Homemade Baked Churros, dip the fork into the melted chocolate, and quickly move your wrist back and forth to create a zigzag pattern.
It's handy to keep a kitchen ruler nearby, so you can make sure your rectangle turns out the right size.
If you love these Baked Crescent Churros, try these Mini Churro Doughnut Holes. It's the cinnamon-sugar fair food you can make right in your kitchen.
Looking for something a little more decadent? Try this recipe for Dulce de Leche Mocha Ice Cream Dessert. It's a make-ahead treat that will go fast!
Nutrition
1 Churro Calories 140 (Calories from Fat 70); Total Fat 8g (Saturated Fat 4g ,Trans Fat 0g); Cholesterol 0mg; Sodium 220mg; Potassium 20mg; Total Carbohydrate 17g (Dietary Fiber 0g ,Sugars 7g); Protein 2g
% Daily Value: Vitamin A 0%; Vitamin C 0%; Calcium 0%; Iron 4%
Exchanges: 1/2 Starch; 1/2 Other Carbohydrate; 1 1/2 Fat
Carbohydrate Choice: 1
*Percent Daily Values are based on a 2,000 calorie diet