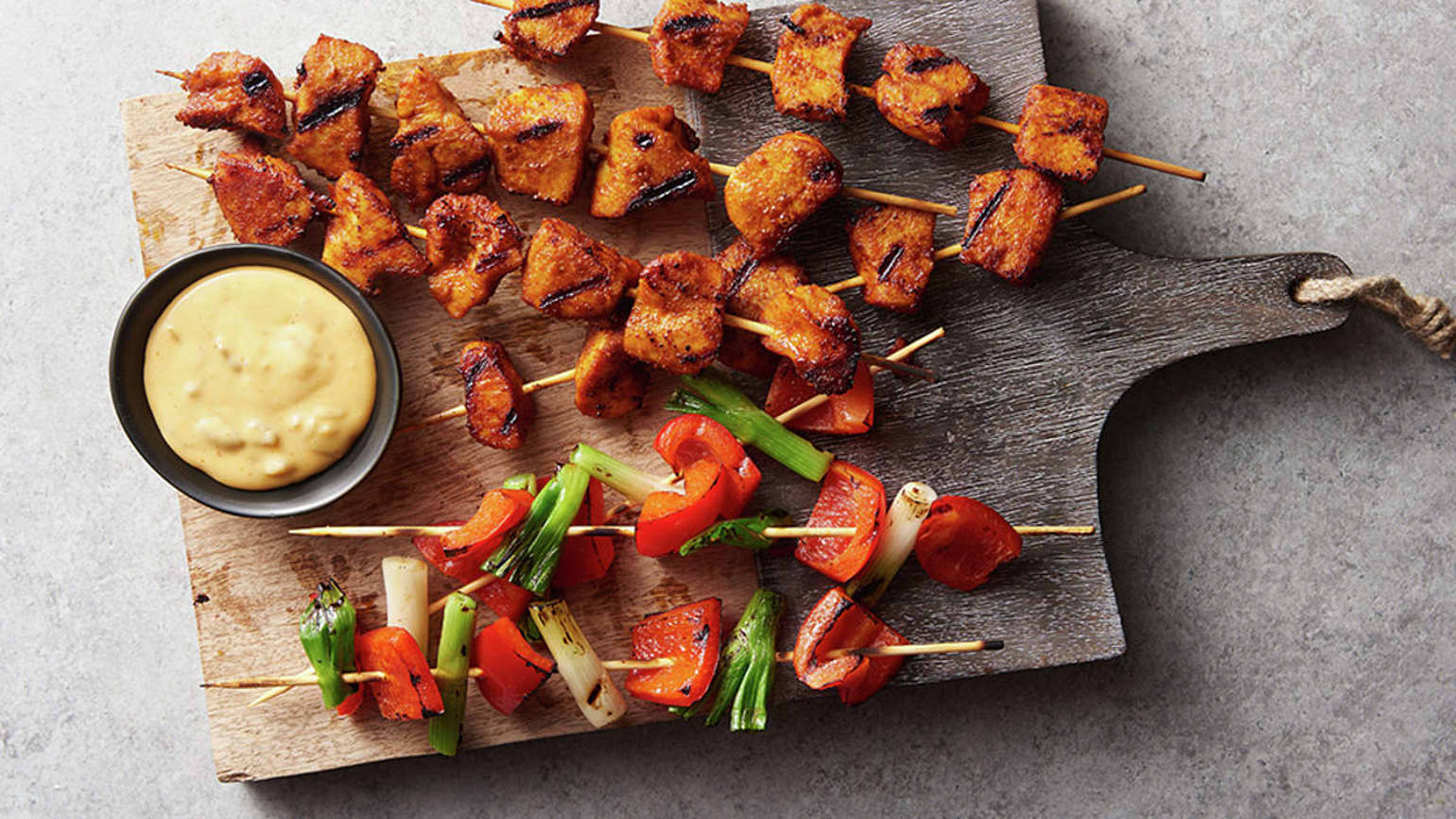 Mexican Chicken Kabobs with Chile Cheese Sauce
These cheesy Mexican chicken kabobs can't wait to start sizzling on your grill!
Ingredient List
8 (10-inch) bamboo skewers
8 oz pasteurized prepared sharp Cheddar cheese product loaf, cut in 1/2-inch cubes
1 can (4 oz) Old El Paso™ whole green chiles
1 tablespoon Sriracha sauce
1 1/4 lb boneless skinless chicken breasts, cut into 1 1/2-inch pieces
1/4 cup olive oil
1 package (0.85 oz) Old El Paso™ taco seasoning mix chicken
2 medium red bell peppers, cut into 1 1/4-inch pieces (12 pieces)
4 green onions, cut into 1 1/2-inch pieces
1/4 teaspoon salt
Advertisement
Recipe Continues Below
Preparation
Heat gas or charcoal grill. Soak skewers in water 10 minutes; drain.
In medium microwavable bowl, mix cheese, chiles and Sriracha sauce. Microwave uncovered on High 4 to 5 minutes, stirring once after 2 minutes, until cheese melts and mixture is smooth; keep warm.
Meanwhile, in medium bowl, mix chicken, 2 tablespoons of the olive oil and the taco seasoning mix. On each of 4 skewers, thread chicken, leaving 1/4-inch space between each piece.
On remaining 4 skewers, thread alternating bell peppers and green onions. Brush vegetables generously on both sides with remaining 2 tablespoons olive oil; sprinkle with salt.
Place kabobs on grill over medium heat. Cover grill; cook vegetables 6 to 8 minutes and chicken 10 to 14 minutes, turning kabobs 1 or 2 times, until grill marks form, vegetables are tender and chicken is no longer pink in center. Serve with cheese sauce.
Expert Tips
Craving carbs too? Stuff chicken and veggies into warmed soft tortillas, or serve over rice.
If vegetables kabobs are finished before chicken kabobs, keep warm by covering tightly with foil or placing in a 200°F oven. Cheese sauce can also be kept warm, covered with foil, in the same oven.
Metal skewers can be used instead of bamboo. Bamboo skewers are soaked in water so they're less likely to burn; there is no need to soak if you use metal skewers.
Nutrition
1 Serving Calories 480 (Calories from Fat 260); Total Fat 29g (Saturated Fat 7g ,Trans Fat 0g); Cholesterol 105mg; Sodium 1640mg; Potassium 480mg; Total Carbohydrate 14g (Dietary Fiber 1g ,Sugars 9g); Protein 40g
% Daily Value: Vitamin A 70%; Vitamin C 80%; Calcium 40%; Iron 15%
Exchanges: 1 Other Carbohydrate; 1/2 Vegetable; 4 Very Lean Meat; 1 1/2 High-Fat Meat; 3 Fat
Carbohydrate Choice: 1
*Percent Daily Values are based on a 2,000 calorie diet