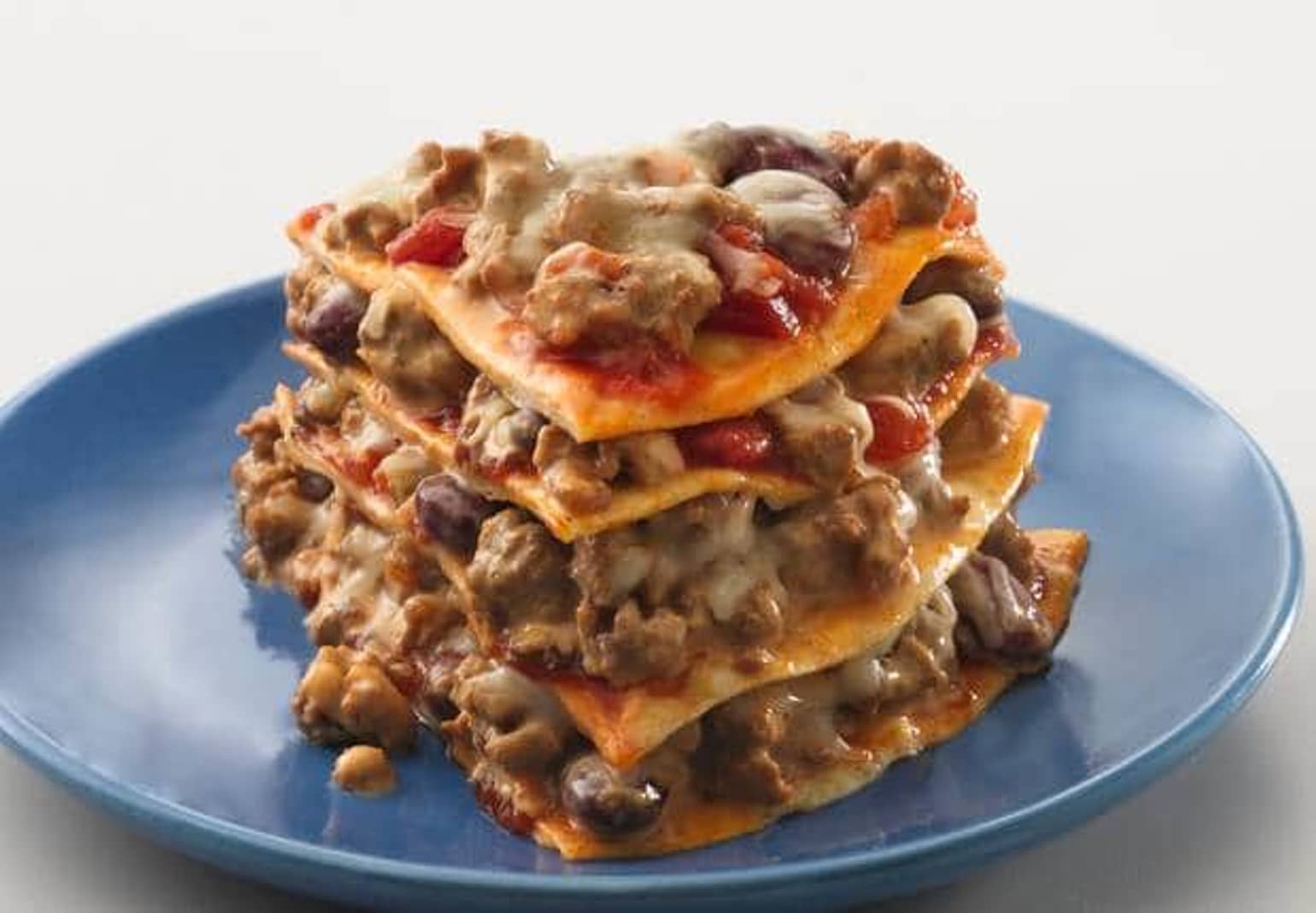 Mile High Salsa Pie
Wanting to switch up Taco Tuesday? Opt for this easy, cheesy Mile High Salsa Pie. A taco dinner kit makes this meal practically foolproof. Get ready to dig in, because your family or friends will make quick work of this tasty salsa pie.
Ingredient List
1 lb lean (at least 80%) ground beef or chopped boneless skinless chicken breasts
1 box (8.7 oz) Old El Paso™ Soft Taco Bake® dinner kit
1 cup water
1 can (15 oz) Progresso™ kidney beans, drained, rinsed
1 jar (16 oz) Old El Paso™ Thick 'n Chunky salsa
1 cup shredded Monterey Jack cheese (4 oz)
Advertisement
Recipe Continues Below
Preparation
Heat oven to 400°F. In 10-inch nonstick skillet, cook beef or chicken, stirring occasionally, until thoroughly cooked; drain. Stir in seasoning mix (from dinner kit), water and half of the cheese sauce (from dinner kit). Heat to boiling over high heat, stirring occasionally. Reduce heat to medium-high. Simmer uncovered 4 minutes, stirring occasionally. Stir in kidney beans and remaining cheese sauce; heat until hot.
In ungreased 2-quart casserole, place 1 tortilla (from dinner kit). Layer with 1/4 of the salsa, beef mixture and cheese. Repeat layers, using up ingredients and ending with cheese on top.
Cover; bake 17 to 22 minutes or until cheese is melted. Let stand 5 minutes.
Expert Tips
To give this salsa pie a slightly different flavor, try shredded Old El Paso™ 3 Pepper Cheese Blend or Mexican 4 Cheese Blend in place of Monterey Jack.
Try topping your mile high taco pie with diced tomatoes, fresh cilantro leaves, green onions and diced avocado.
Complement the dinner pie with mango and pineapple slices.
Nutrition
Calories440(Calories from Fat170),Total Fat19g(Saturated Fat8g,Trans Fat1 1/2g),Cholesterol65mgSodium1470mgTotal Carbohydrate40g(Dietary Fiber4g Sugars4g),Protein25g;% Daily Value*:Vitamin A15%;Vitamin C0%;Calcium25%;Iron20%; Exchanges:2 Starch; 0 Fruit; 1/2 Other Carbohydrate; 0 Skim Milk; 0 Low-Fat Milk; 0 Milk; 0 Vegetable; 0 Very Lean Meat; 0 Lean Meat; 0 High-Fat Meat; 1/2 Fat; Carbohydrate Choices:2 1/2
*Percent Daily Values are based on a 2,000 calorie diet.