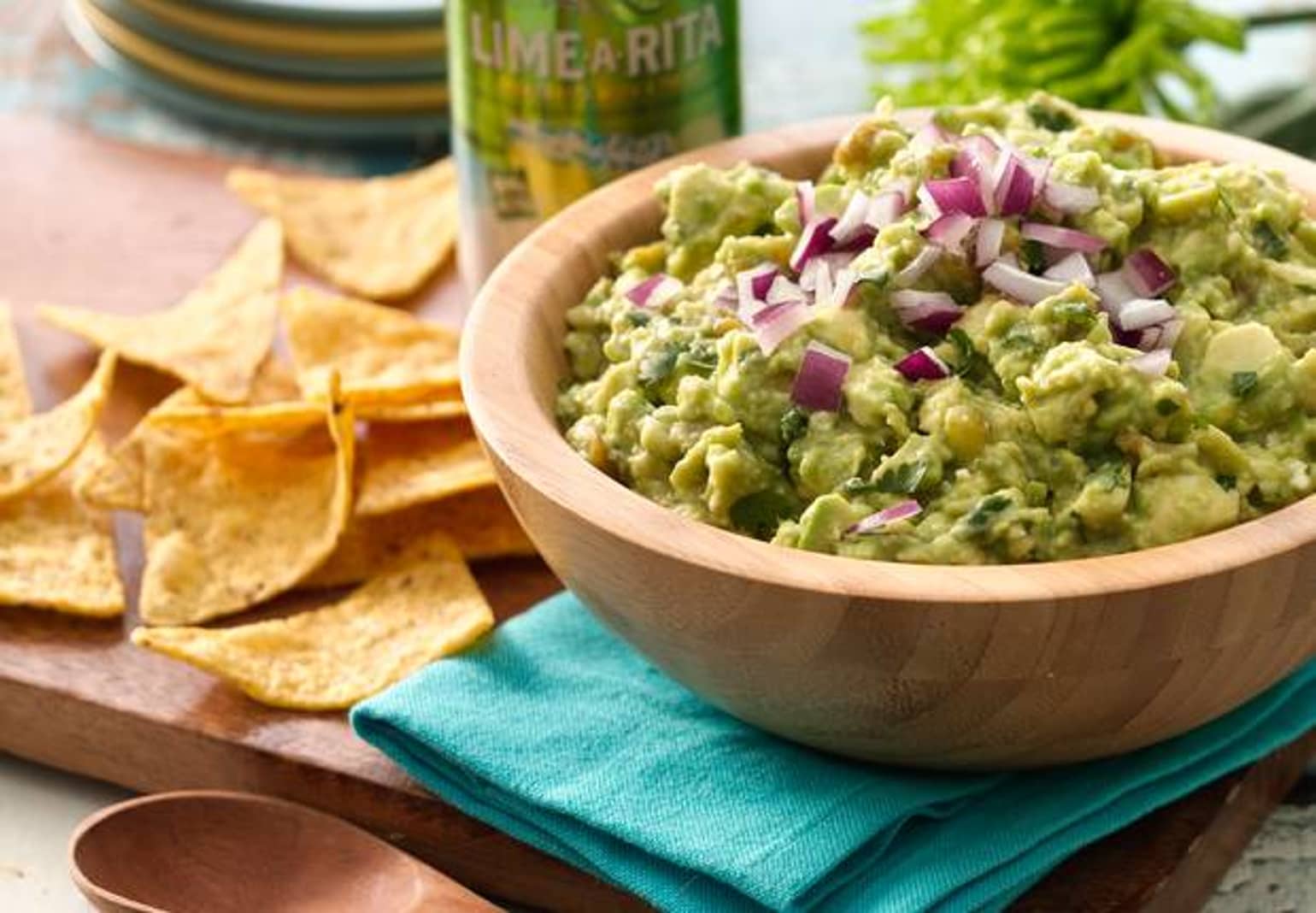 Rita-Spiked Guacamole
Having some friends over and want guac, but don't have lime? Simply substitute some Bud Light Lime® Lime-A-Rita flavored malt beverage—it works like a charm (and you can enjoy the rest of the can yourself). Serve with tortilla chips or veggies for a yummy appetizer, or use it as a topping on taco night!
Ingredient List
5 avocados, pitted and peeled
3 tablespoons Bud Light Lime® Lime-A-Rita flavored malt beverage (from 8-oz can)
1 can (4.5 oz) Old El Paso™ chopped green chiles
1/4 cup chopped fresh cilantro leaves
1/2 cup crumbled queso fresco cheese (2 oz)
1 teaspoon salt
Tortilla chips, as desired
Advertisement
Recipe Continues Below
Preparation
In medium bowl, mix all ingredients except chips, mashing avocados.
Serve with chips.
Expert Tips
Cut-up vegetables like carrots, radishes and celery make nice dippers for this lime-y guacamole.
If you want to make a smaller batch, use the entire can of chiles—but use about half the amount of each remaining ingredient.
Sprinkle chopped red onion over guacamole right before serving for a special touch.
Nutrition
Calories150(Calories from Fat110),Total Fat12g(Saturated Fat2 1/2g,Trans Fat0g),Cholesterol0mgSodium340mgTotal Carbohydrate7g(Dietary Fiber4g Sugars0g),Protein2g;% Daily Value*:Vitamin A4%;Vitamin C15%;Calcium4%;Iron2%; Exchanges:0 Starch; 0 Fruit; 0 Other Carbohydrate; 0 Skim Milk; 0 Low-Fat Milk; 0 Milk; 0 Vegetable; 0 Very Lean Meat; 0 Lean Meat; 0 High-Fat Meat; 0 Fat; Carbohydrate Choices:1/2
*Percent Daily Values are based on a 2,000 calorie diet.