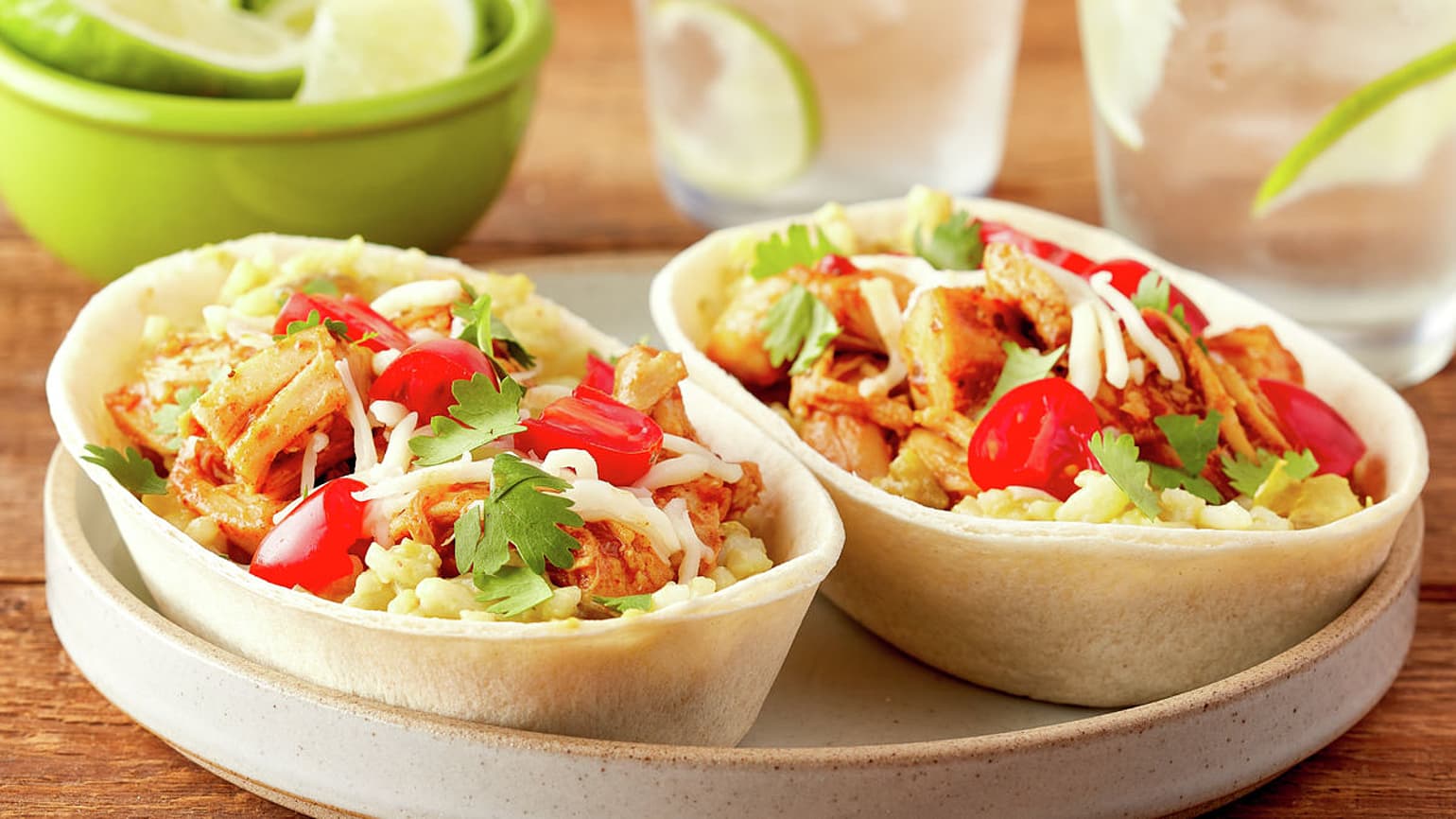 Salsa Verde Rice and Chicken Bowls
Chicken tonight? Give it a glow-up with this salsa verde rice twist. Start by stirring in Old El Paso™ Creamy Salsa Verde sauce and Green Chiles to cooked rice before adding in a scoop of shredded rotisserie chicken. Everyone can sprinkle in their favorite taco fixings to make this chicken rice bowl recipe a hassle-free, flavorful success.
Ingredient List
Salsa Verde Rice
1/2 cup uncooked regular long-grain white rice
1 cup water
1/3 cup Old El Paso™ Creamy Salsa Verde sauce
1 can (4.5 oz) Old El Paso™ Chopped Green Chiles
Chicken Bowls
2 teaspoons vegetable oil
2 1/2 cups chopped deli rotisserie chicken
1 package (0.85 oz) Old El Paso™ Chicken Taco Seasoning Mix
1/4 cup water
1 package (8 count) Old El Paso™ Soft Tortilla Bowls, heated as directed on package
1 cup shredded Monterey Jack cheese (4 oz)
1/2 cup quartered grape tomatoes
1/4 cup chopped fresh cilantro
Advertisement
Recipe Continues Below
Preparation
In 1 to 1 1/2-quart saucepan, heat uncooked rice and 1 cup water to boiling. Reduce heat; cover and simmer 8 to 10 minutes or until all water is absorbed. Remove from heat; let stand covered 5 minutes. Fluff with fork. Stir in sauce and green chiles; cover and keep warm.
In 10-inch skillet, heat oil over medium heat. Add chicken, taco seasoning mix and 1/4 cup water; cook 5 to 6 minutes, stirring frequently, until chicken is heated through. Remove from heat.
To assemble, divide rice and chicken mixtures among warm tortilla bowls; top with cheese, tomatoes, cilantro and additional sauce, if desired.
Expert Tips
Precooked rice is available for purchase in the frozen section of the grocery store and is a convenient alternative to the cooked rice in this recipe. You may also use 1 1/2 cups leftover cooked rice, heated in microwave, before adding the sauce.
Deli rotisserie chicken makes these bowls quick and convenient!
Topping the bowls with your favorite salsa or fresh pico de gallo is a great alternative to the tomatoes and cilantro.
Nutrition
1 Serving Calories 300 (Calories from Fat 120); Total Fat 13g (Saturated Fat 5g ,Trans Fat 0g); Cholesterol 55mg; Sodium 910mg; Potassium 150mg; Total Carbohydrate 27g (Dietary Fiber 1g ,Sugars 2g); Protein 17g
% Daily Value: Vitamin A 2%; Vitamin C 0%; Calcium 15%; Iron 10%
Exchanges: 2 Starch; 1 Very Lean Meat; 1/2 High-Fat Meat; 1 1/2 Fat
Carbohydrate Choice: 2
*Percent Daily Values are based on a 2,000 calorie diet