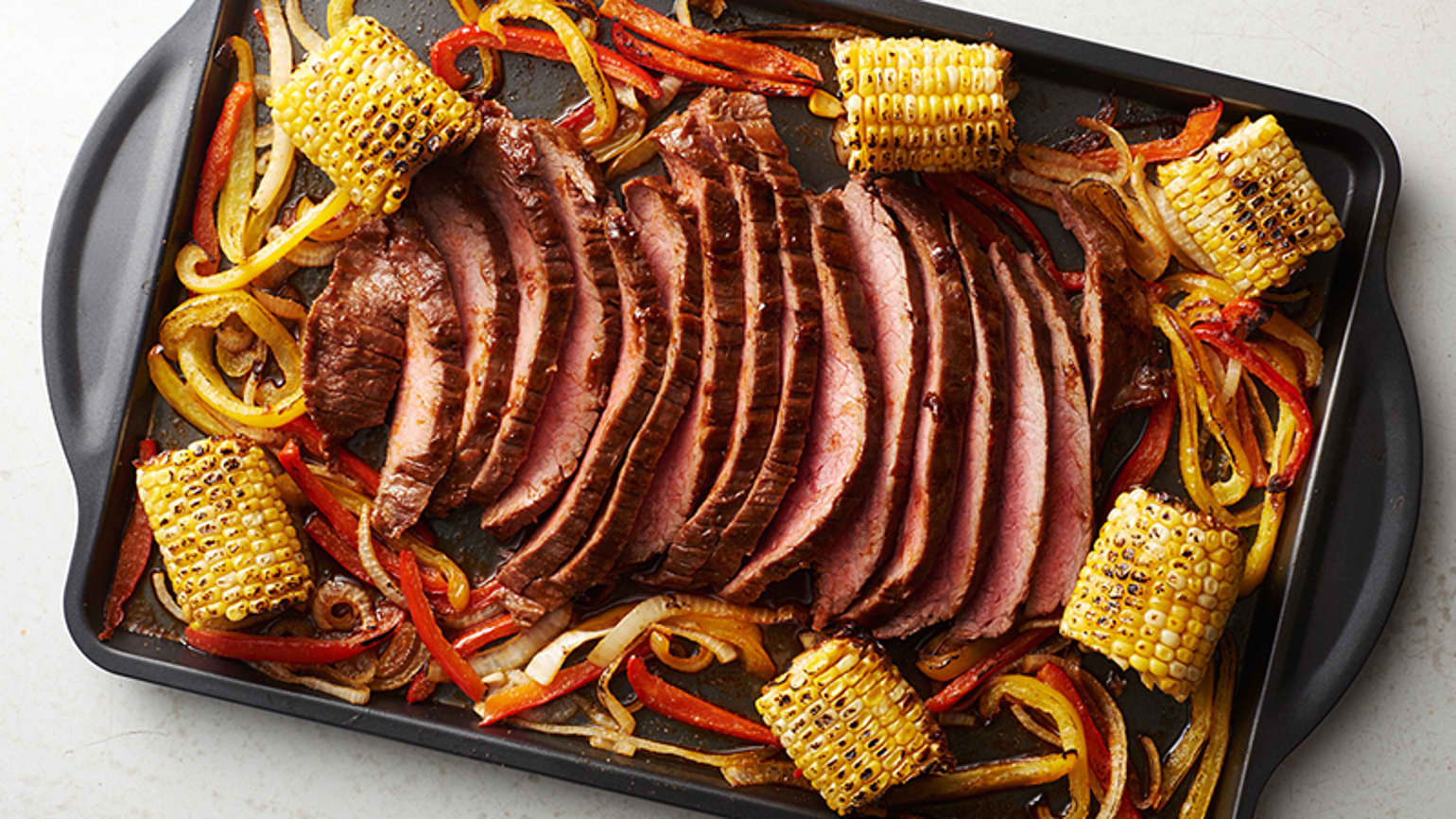 Sheet-Pan Carne Asada
Get delicious, flame-kissed carne asada on the table in less than an hour with this Sheet-Pan Carne Asada oven recipe made entirely in the broiler. There is no need to marinate the steak the night before, just brush on our classic Old El Paso™ Original Taco Seasoning Mix and ground spicy red pepper. Toss your fresh vegetables with cumin and coriander and then arrange it all on your sheet pan to let the oven broiler do the rest of the work. You may not go back to grilling carne asada after tasting the delicious and tender steak and vegetables from this easy-to-make oven-broiled recipe!
15 Minutes Prep
35 Minutes Total
Ingredient List
1/4 cup vegetable oil
1 1/2 teaspoons ground cumin
1 1/2 teaspoons ground coriander
3/4 teaspoon salt
2 ears fresh sweet corn, cut in thirds, or 6 pieces frozen corn on the cob, thawed (from 12-ct package)
1 medium red bell pepper, cut in thin strips
1 medium yellow bell pepper, cut in thin strips
1 medium yellow onion, thinly sliced
1 package (1 oz) Old El Paso™ original taco seasoning mix
1/4 teaspoon ground red pepper (cayenne)
1 1/3 lb beef flank steak
Tortillas and Toppings, as desired : Old El Paso™ flour tortillas, crumbled queso fresco, sliced radishes, diced avocado, chopped fresh cilantro, sour cream
Advertisement
Recipe Continues Below
Preparation
Position oven rack 4 inches from broiler element. Spray 18x13-inch rimmed sheet pan with cooking spray.
In large bowl, mix 2 tablespoons of the vegetable oil, the cumin, coriander and salt. Add corn, bell peppers and onion to bowl, and toss to coat; transfer to pan. In same large bowl, mix remaining 2 tablespoons oil, the taco seasoning mix and ground red pepper. Add steak; rub mixture in to steak. Transfer to pan with vegetables.
Broil 8 to 10 minutes, turning steak and stirring vegetables once, until instant-read thermometer inserted in thickest part of steak reads 135°F (for medium). Transfer steak to cutting board; cover with foil, and let steak rest 5 minutes.
Stir vegetables in pan; return to oven, and broil 4 to 6 minutes longer or until vegetables are blackened in spots. Thinly slice steak on the bias, against the grain. Serve with vegetables in tortillas with toppings.
Expert Tips
While traditional carne asada is all about the marinade, when you don't have time to marinate your meat for several hours this recipe is the perfect solution. To make sure your steak is properly spiced before broiling, season one piece of sliced steak at a time. Sprinkle the seasoning over the steak first on both sides and then use your hands to rub it further into the steak. Make sure the steak is completely covered with the spice mix, rubbing in the spices to the front, back and the sides.
We love eating this flavor-packed corn straight from the cob. But feel free to cut the corn off the cob after taking it out of the broiler to make serving easier.
If your oven's broiler only covers the center of your oven, arrange your pan with the steak in the center of the pan when you are first broiling. When you remove the steak rest, thoroughly stir the vegetables and position them in the center to ensure all elements get plenty of time directly under the flames.
Give your carne asada-packed tortillas a flavor boost with homemade guacamole! We can't get enough of our recipe for Guacamole with Queso Fresco. This guacamole is perfect for adding to tacos and burritos or great when you are just snacking with a bag of corn chips!
Nutrition
6 servings
1 Serving
Calories 290 (Calories from Fat 120); Total Fat 14g (Saturated Fat 3g, Trans Fat 0g); Cholesterol 65mg; Sodium 650mg; Total Carbohydrate 15g (Dietary Fiber 2g, Sugars 4g); Protein 26g
% Daily Value:
Vitamin A 20%; Vitamin C 50%; Calcium 2%; Iron 15%;
Exchanges:
1/2 Starch, 1 Vegetable, 3 Lean Meat, 1 Fat