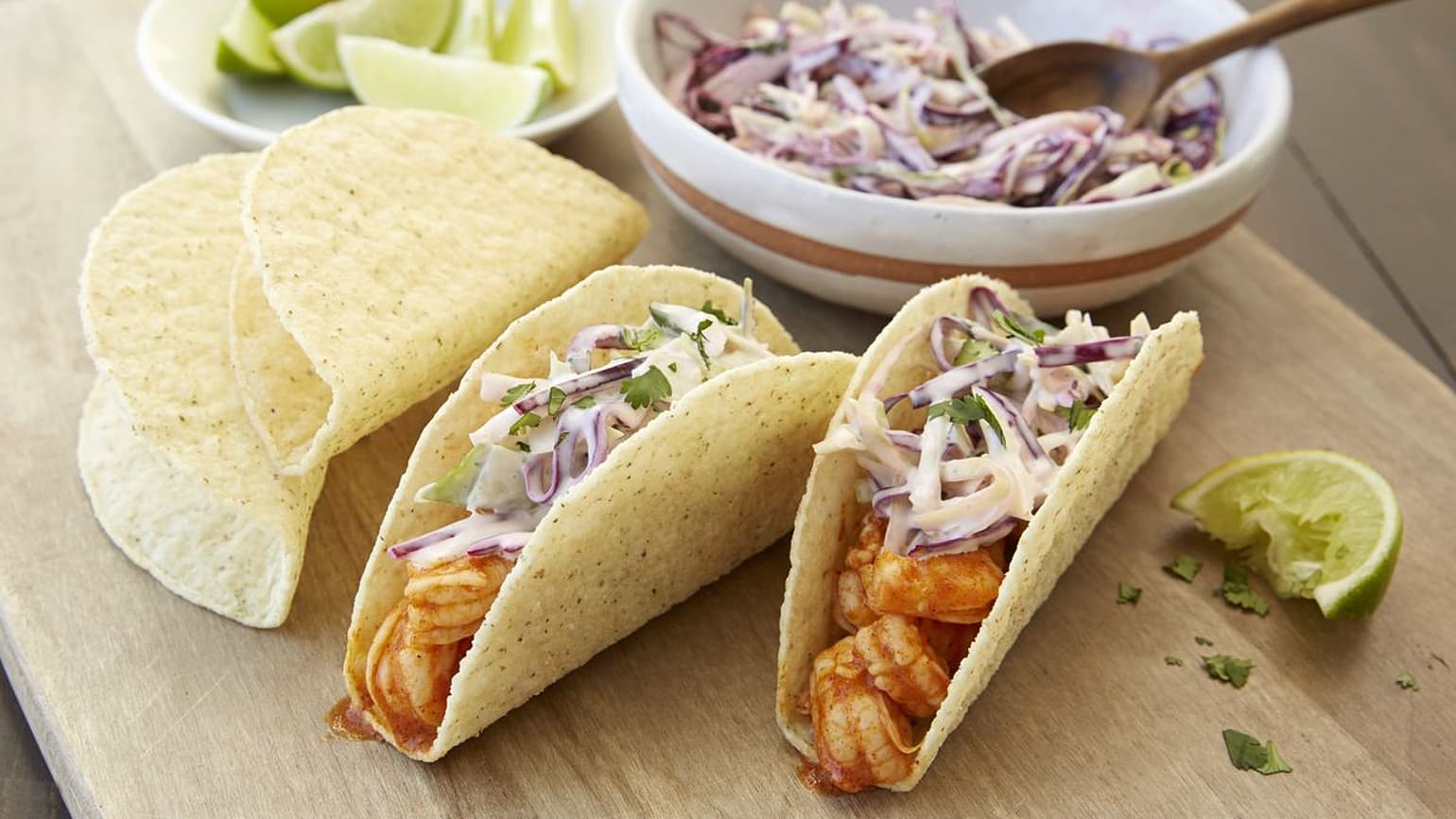 Shrimp Tacos with Creamy Lime Slaw
Watch out, fish tacos—there's a new seafood filling in town! Shrimp, sautéed in just a few minutes, is the perfect fresh taco filling, especially when it's topped with a quick and easy lime-spiked slaw. One bite of these Shrimp Tacos with Creamy Lime Slaw will have family and friends scrambling for seconds. This is a definite winner for taco night or any time you need a quick, flavorful meal. Get ready to dish up some showstopping shrimp tacos with lime slaw!
Ingredient List
4 tablespoons lime juice
3 tablespoons mayonnaise
1 teaspoon finely shredded lime peel
1 teaspoon sugar
1/4 teaspoon salt
1/8 teaspoon ground red pepper (cayenne)
1 1/2 cups shredded red cabbage
1 1/2 cups shredded green cabbage
1/4 cup chopped fresh cilantro leaves
1 1/4 lb uncooked deveined peeled medium shrimp, tail shells removed
2 tablespoons from 1 container (6.25 oz) Old El Paso™ Original Taco Seasoning Mix
1 tablespoon vegetable oil
1 box (5.4 oz) Old El Paso™ Hint of Lime Yellow Corn Stand 'n Stuff Taco Shells (10 Count), heated as directed on box
Advertisement
Recipe Continues Below
Preparation
In medium bowl, mix 2 tablespoons of the lime juice, the mayonnaise, lime peel, sugar, salt and red pepper. Add cabbages and cilantro; stir to coat. Set aside.
In medium bowl, mix shrimp, taco seasoning mix and remaining 2 tablespoons lime juice; stir to coat.
In 12-inch skillet, heat oil over medium-high heat until hot. Add shrimp mixture; cook and stir 2 to 4 minutes or until shrimp turn pink. Remove shrimp from skillet, reserving juices, and place on cutting board; coarsely chop.
Reduce heat to medium-low; cook reserved juices in skillet 1 to 2 minutes, stirring occasionally, until thickened. Return shrimp to skillet; stir to coat. Remove from heat.
Divide shrimp filling among warm taco shells; top with slaw.
Expert Tips
Something to keep in mind when picking up the ingredients for shrimp tacos with cilantro-lime slaw: a shrimp's size is measured by the number of individual shrimp it takes to make up a pound. Medium-size shrimp are usually labeled 36/41, meaning there are between 36 and 41 of this size shrimp in a pound.
Adding both red and green cabbage to your cilantro-lime slaw shrimp tacos will give them a lovely appearance, but if you only have one type of cabbage on hand, it's okay to use just one color.
If you want to add some extra zip to this shrimp tacos with slaw recipe, try a drizzle of Sriracha or your favorite hot sauce on top of the coleslaw.
Nutrition
*Percent Daily Values are based on a 2,000 calorie diet