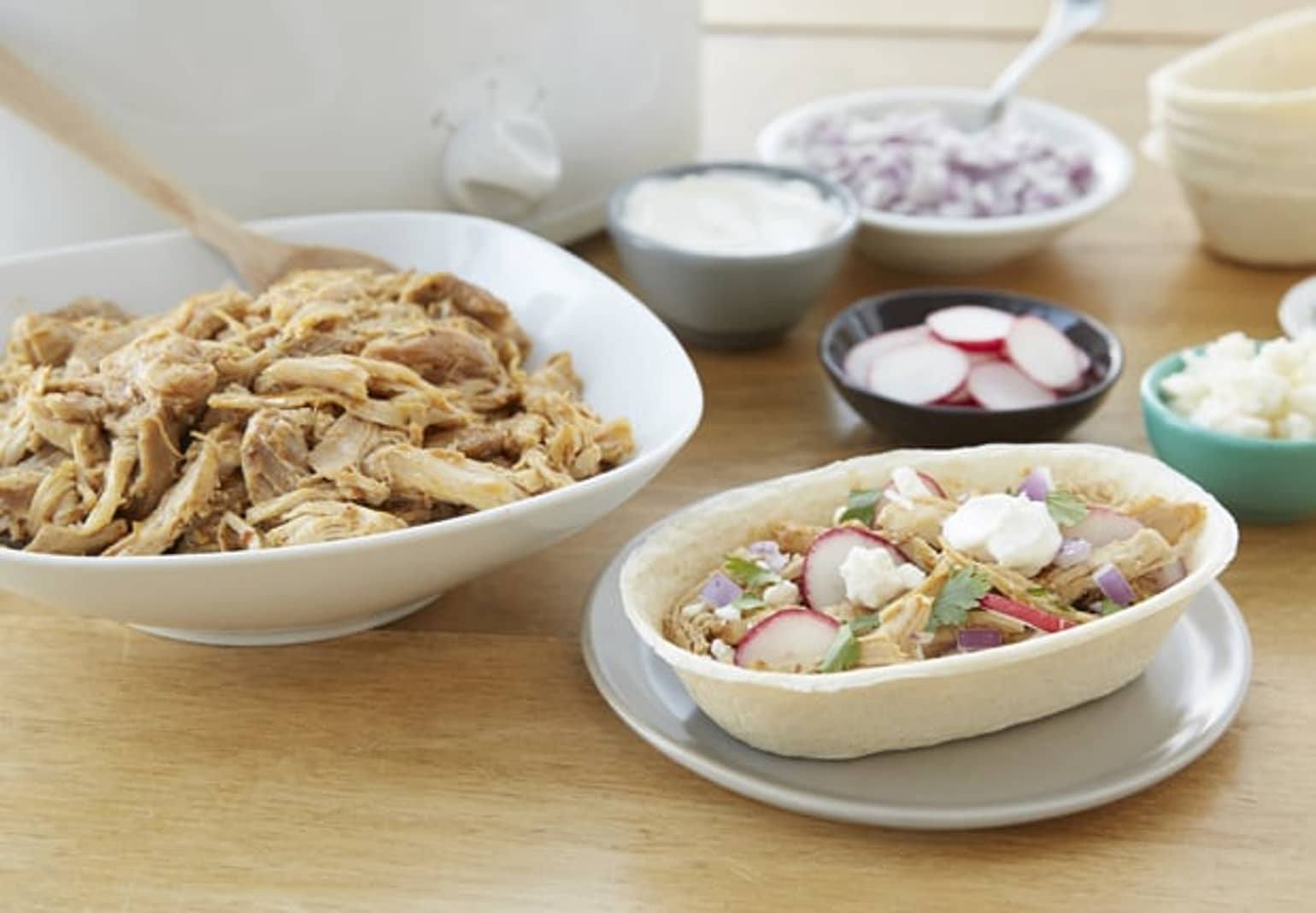 Slow-Cooked Chicken Carnitas Recipe
Sunday meal prep never tasted so good! This works great in tacos, enchiladas, quesadillas, bowls and more.
30 Minutes Prep
3 Hours 30 Minutes Total
Ingredient List
1/4 cup vegetable oil
1 package (0.85 oz) Old El Paso™ chicken taco seasoning mix
1 teaspoon ground cumin
1 teaspoon ground coriander
1/2 teaspoon salt
1/4 teaspoon ground red pepper (cayenne)
2 packages (20 oz each) boneless skinless chicken thighs
2 cups chopped yellow onions
4 cloves garlic, peeled
2 tablespoons orange juice
2 tablespoons lime juice
Old El Paso™ Soft Tortilla Bowls, sliced radishes, sour cream, diced red onion, crumbled queso fresco cheese and fresh cilantro leaves, as desired
Advertisement
Recipe Continues Below
Preparation
Spray 5-quart slow cooker with cooking spray. In slow cooker, mix oil, taco seasoning mix, cumin, coriander, salt and red pepper. Add chicken, onions and garlic; toss to coat.
Cover; cook on Low heat setting 3 to 4 hours or until very tender (at least 165°F). Drain chicken mixture; reserve 1/4 cup of the cooking liquid; shred meat with fork. Return chicken mixture to slow cooker. Stir in reserved cooking liquid, orange and lime juices.
Spoon chicken mixture into bowls. Top with remaining ingredients.
Expert Tips
Traditional carnitas is made from pork shoulder, braised in lard. We made it easier and more accessible by using chicken thighs and vegetable oil in the slow cooker. Fattier thighs are essential to creating succulent, shreddable meat–chicken breasts would be too lean.
For food safety, the meat must be at least 165°F, but for the most tender meat, aim for an internal temperature of 185 to 195°F.
Nutrition
1 Serving: Calories 180 (Calories from Fat 80); Total Fat 9g (Saturated Fat 2g, Trans Fat 0g); Cholesterol 90mg; Sodium 310mg; Potassium 220mg; Total Carbohydrate 5g (Dietary Fiber 0g); Protein 20g % Daily Value: Vitamin A 2%; Vitamin C 4%; Calcium 2%; Iron 8% Exchanges: 1/2 Other Carbohydrate, 2 1/2 Very Lean Meat, 1 1/2 Fat Carbohydrate Choices: 1/2