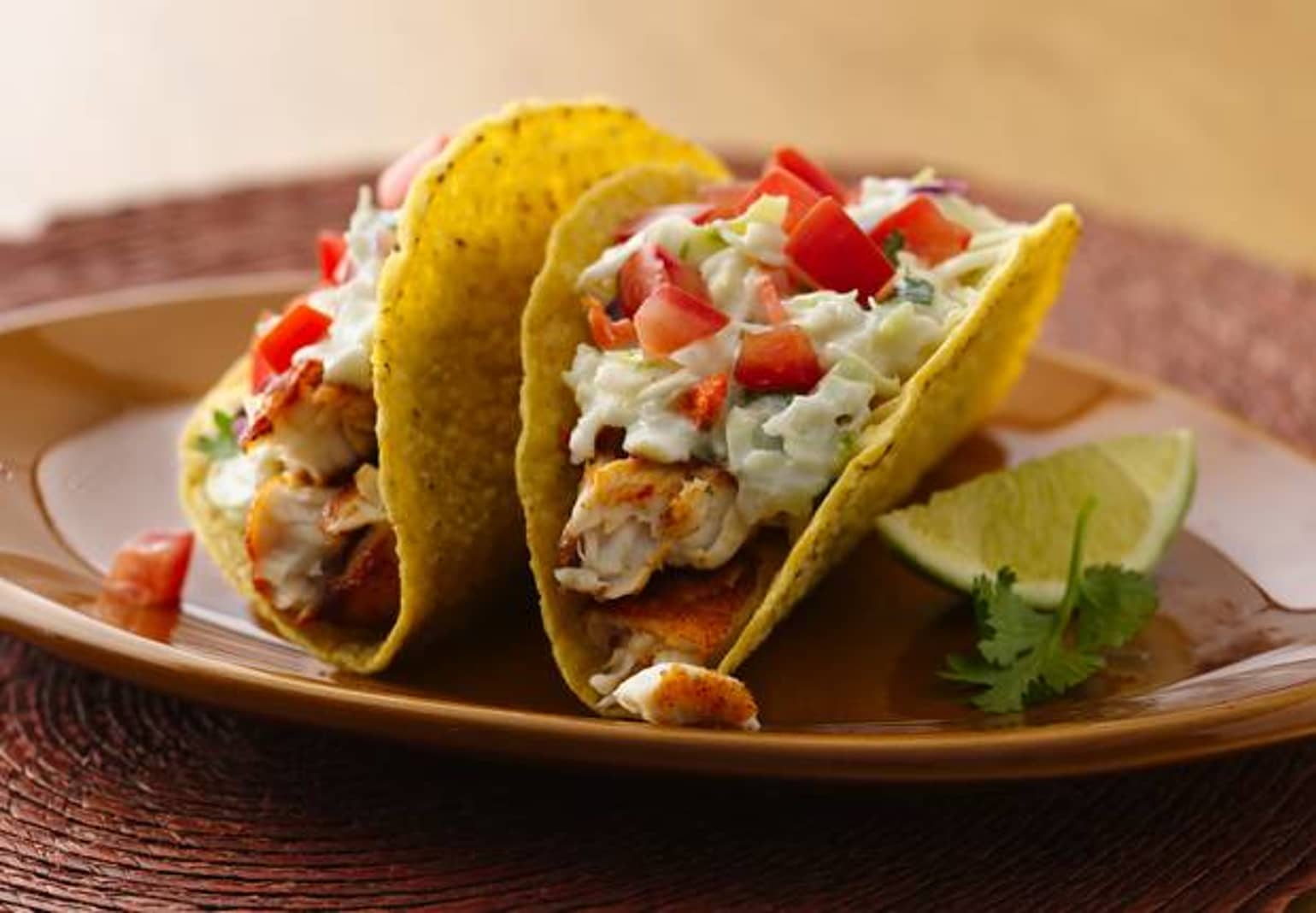 Spicy Fish Tacos
Spicy Fish Tacos can turn an ordinary weeknight into a flavor vacation! This Spicy Fish Tacos recipe pairs fish fillets with Old El Paso™ Original Taco Seasoning Mix for that Tex-Mex kick. The flavor fantasy continues with the cilantro lime sauce for fish tacos, which you'll create by mixing yogurt, lime peel, lime juice, coleslaw mix, cilantro and jalapeño. Add that all into some crunchy shells, and you'll be serving up some fantastic fish tacos with lime sauce in just 30 minutes flat!
Ingredient List
1 lb white fish fillets, such as tilapia or catfish
2 tablespoons Old El Paso™ taco seasoning mix (from 1-oz package)
1 tablespoon olive oil or butter
1 box (4.6 oz) Old El Paso™ taco shells
1 container (6 oz) Greek Fat Free plain yogurt
1/2 to 1 teaspoon grated lime peel
1 teaspoon lime juice
1 teaspoon sugar
1/4 teaspoon salt
4 cups coleslaw mix (shredded cabbage and carrots), from 16-oz bag
2 tablespoons chopped fresh cilantro
1 small jalapeño chile, seeded, finely chopped
1 medium tomato, seeded, diced
Advertisement
Recipe Continues Below
Preparation
Sprinkle both sides of fish fillets with taco seasoning mix. Heat oil in 12-inch skillet until hot. Cook fish in oil 6 to 8 minutes over medium heat, turning once, until fish flakes easily with fork. Cut into bite-size chunks.
Meanwhile, heat taco shells as directed on box.
In large bowl, mix yogurt, lime peel, lime juice, sugar and salt. Stir in coleslaw mix, cilantro and jalapeño. Let stand 5 minutes.
Spoon slightly less than 1/4 cup fish chunks and 1/4 cup coleslaw mixture into each taco shell; top each with about 1 tablespoon tomato.
Expert Tips
When chopping the jalapeño chile, wear gloves to prevent skin irritation from the oils.
You can omit the jalapeño if you have kids who won't like their fish tacos all that spicy.
Make it your own! Load up these delicious Spicy Fish Tacos with extra toppings, like diced avocado, sliced green onions, or a squeeze of Old El Paso™ Creamy Salsa Verde Sauce.
Nutrition
Calories280(Calories from Fat90),Total Fat9g(Saturated Fat3g,Trans Fat0g),Cholesterol50mgSodium680mgTotal Carbohydrate25g(Dietary Fiber2g Sugars5g),Protein22g;% Daily Value*:Vitamin A30%;Vitamin C40%;Calcium15%;Iron4%; Exchanges:1 1/2 Starch; 0 Fruit; 0 Other Carbohydrate; 0 Skim Milk; 0 Low-Fat Milk; 0 Milk; 1 Vegetable; 2 Very Lean Meat; 0 Lean Meat; 0 High-Fat Meat; 1 1/2 Fat; Carbohydrate Choices:1 1/2
*Percent Daily Values are based on a 2,000 calorie diet.