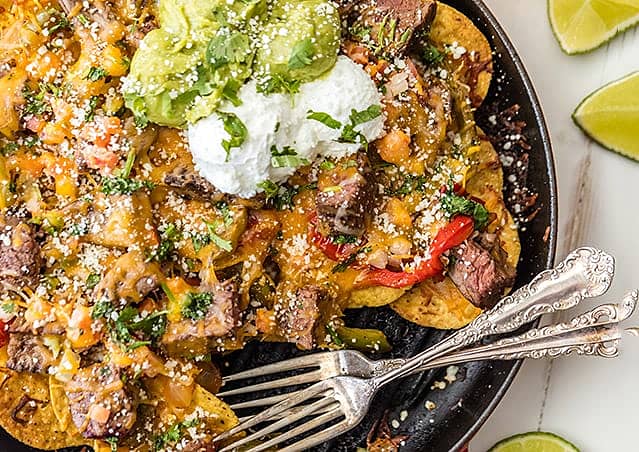 Steak Fajita Nachos Recipe
These Steak Fajita Nachos can be made and served in just one skillet! Eat with a fork and knife or just use your hands, you can't go wrong! So flavorful, juicy, and fabulous!
15 Minutes Prep
15 Minutes Total
Ingredient List
1 lb. Flank Steak
1 packet (1 ounce) Old El Paso™ Taco Seasoning mix
1 can (4.5 ounce) Old El Paso™ chopped green chiles
4 tablespoons fresh lime juice
1/4 cup fresh cilantro, chopped
1 tablespoon minced garlic
1/3 cup olive oil
large bag STURDY tortilla chips
8 ounces Mexican blend cheese
1 green pepper, chopped
1 red pepper, chopped
2 onions, chopped
1 cup pico de gallo
guacamole, sour cream, more cilantro, and pico de gallo for garnish (optional)
Preparation
Place olive oil, taco seasoning, lime juice, green chiles, cilantro, and garlic in a blender or food processor. Blend until well combined and smooth. Place flank steak in a large ziplock bag and pour in the marinade, reserving a bit of marinade for the veggies. Place in the fridge to marinate for a minimum of 24 hours.
After 24 hours, take out steak and cook in a skillet on high for 4-6 minutes on each side, or until cooked through to your liking. Remove steak from skillet and cut into bite sized pieces. Set aside.
In the same skillet, toss in the green pepper, onion, and red pepper. Pour in the marinade you saved. Saute on medium/high heat for 3-5 minutes or until onion is translucent and peppers are tender. Place on a plate and set aside.
In the same skillet, add the tortilla chips. Top with half the cheese, then the peppers/onion mixture, then steak, then the rest of the cheese. Top with pico de gallo and cilantro.
You can broil the nachos in your oven on high for 4-6 minutes or until cheese is hot and bubbly, or cook on the stovetop until cheese is melted.
Serve topped with sour cream, guacamole, and more cilantro.