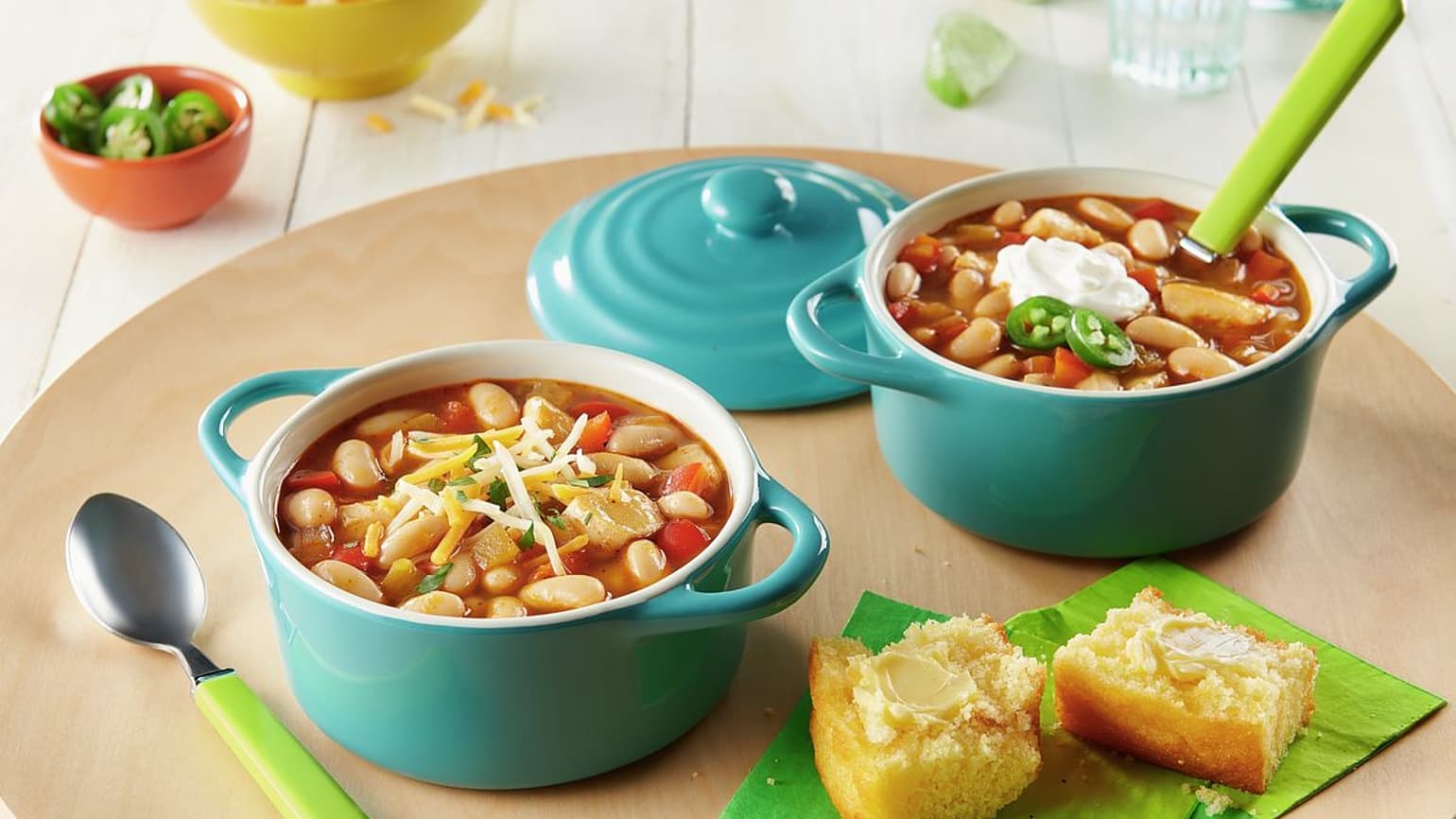 White Bean Chicken Chili
Chili is one of the most versatile dishes able to change its look and flavor depending on your favorite ingredients. Our White Bean Chicken Chili is the perfect example of a twist on the familiar red comfort food. It's loaded with
Old El Paso™ Chopped Green Chiles
, cannellini beans, bell pepper, and spiced with
Old El Paso™ Chicken Taco Seasoning Mix
. The broth has plenty of delicious spices, but the chicken chili's real star is its meat and veggies. Make sure you've got enough for seconds; that's how much your family will love this chicken and white bean chili recipe.
Ingredient List
Chili
2 tablespoons vegetable oil
1 lb boneless skinless chicken breasts, cut in 3/4-inch pieces
1/2 teaspoon salt
1/4 teaspoon black pepper
1 cup chopped yellow or red bell pepper
3/4 cup chopped onion
2 teaspoons finely chopped garlic
2 cups reduced-sodium chicken broth (from 32-oz carton)
2 cans (15 oz each) cannellini beans, drained, rinsed
1 can (4.5 oz) Old El Paso™ Chopped Green Chiles
1 package (0.85 oz) Old El Paso™ Chicken Taco Seasoning Mix
1/8 teaspoon ground red pepper (cayenne)
Serve with, if desired
Old El Paso™ Shredded 3 Pepper Blend Cheese
Sliced jalapeño chiles
Old El Paso™ Crema Mexicana
Fresh chopped cilantro leaves
Lime wedges
Advertisement
Recipe Continues Below
Preparation
In 5-quart Dutch oven, heat oil over medium-high heat; season chicken with salt and black pepper. Cook chicken in oil 5 to 7 minutes, stirring once, until chicken is browned on outside. Using slotted spoon, transfer to bowl; set aside.
Add bell pepper and onion to oil and drippings in Dutch oven; cook over medium-high heat 4 to 5 minutes, stirring frequently, until softened. Add garlic; cook 30 to 60 seconds, stirring frequently, until softened.
Stir in chicken broth, beans, green chiles, taco seasoning mix, ground red pepper and the browned chicken; heat to boiling. Reduce heat to low; simmer uncovered 20 to 25 minutes, stirring occasionally, until chili is desired consistency.
To serve, ladle chili into bowls. Serve with Toppings.
Expert Tips
There are many different types of chili recipes out there, such as Texas-style chili, Cincinnati chili, and more. White chili is usually made with white beans, chicken and chilies.
If topping White Bean Chicken Chili with jalapeño slices, remember to wear gloves when handling a jalapeño or any chile pepper, and refrain from touching your face or eyes. The seeds and membrane of the chiles can cause burns. Always wash your hands thoroughly after handling peppers.
Browning the chicken pieces before starting the white chicken chili adds flavor and color to the meat.
Make your meal complete by serving cornbread with your chili.
Nutrition
1 1/4 Cups Calories 390 (Calories from Fat 100); Total Fat 11g (Saturated Fat 2g ,Trans Fat 0g); Cholesterol 70mg; Sodium 1620mg; Potassium 440mg; Total Carbohydrate 36g (Dietary Fiber 9g ,Sugars 8g); Protein 38g
% Daily Value: Vitamin A 4%; Vitamin C 60%; Calcium 10%; Iron 25%
Exchanges: 2 Starch; 1 1/2 Vegetable; 1 Very Lean Meat; 3 Lean Meat
Carbohydrate Choice: 2 1/2
*Percent Daily Values are based on a 2,000 calorie diet