Tex-Mex Charcuterie Board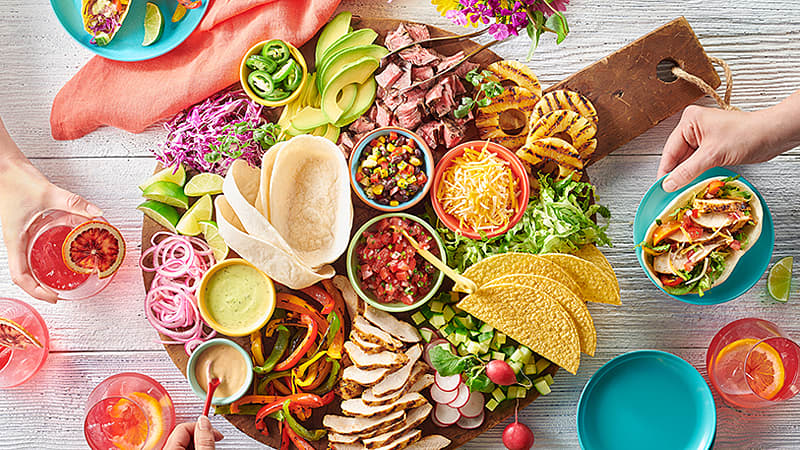 Recently, charcuterie boards have been popping up as the go-to party platter. What was once a French-inspired assortment of meats, cheeses, olives, and bread can now be remixed to be on-theme for any occasion ... including a fiesta! Try a Mexican charcuterie board with all your favorite toppings, mix-ins and salsas. Your friends and family will love personalizing their party fare and it's sure to bring people together around the table. Check out our Tex-Mex DIY charcuterie board ideas for your next gathering.
Start with Shells
While some people live for the toppings, you can't create tacos or nachos without the shells. Display a combination of hard and soft taco shells, as well as tortilla chips to get the party started. Want a hot-tip? Our
Stand 'N Stuff Taco Shells
and
Soft Flour Tortilla Bowls
are great at keeping filling in their shells and off your floor!
Fillings and sides
Provide a selection of hearty and varied protein options, from grilled chicken and barbacoa to black and pinto beans and don't forget the Tex-Mex rice!
Fruits and Veggies
Seasonal fruits and veggies will round out your Mexican charcuterie board and add color and texture to your design. Sautéed bell peppers, onions and chopped jalapeno are classics, but why not get creative with options like grilled pineapple or sliced radishes?
Dips, Sauces and Toppings
Swap the traditional charcuterie jams, fruits and nuts in favor of salsas, guacamole, sour cream, corn salsa and hot sauces. Dreaming of queso? Include it as a side dish or as a squeezable topping like our
Cream Queso Sauce
.
Beverages
No party appetizer is complete without a perfectly paired beverage. Break out the party glassware for bright sangria, or grab your limes for a classic margarita.
Get Inspired
Enjoy your completed charcuterie board while you can, because we're sure it won't last long! Have fun arranging your charcuterie platter, and get inspired with these Old El Paso items and recipes: