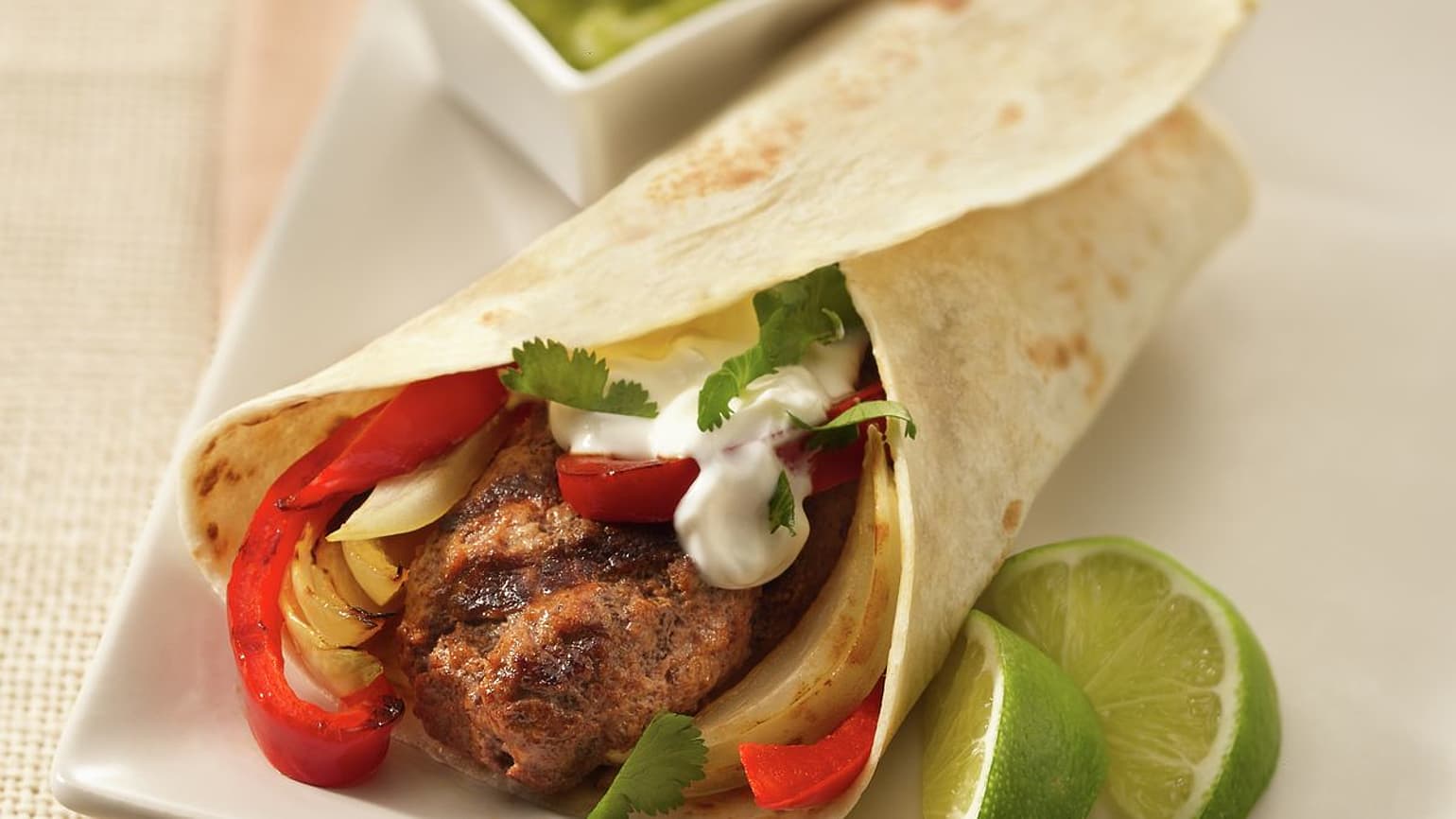 Ground Beef Fajitas
If your family can't agree between burger night and taco night, we've got the perfect tasty recipe to make everyone happy. Ground Beef Fajitas are a Tex-Mex-inspired burger dish featuring spiced ground beef and savory grilled veggies tucked inside a soft Old El Paso™ Flour Tortilla shell. Skip the ketchup and instead drizzle sour cream and sprinkle cilantro on top. Hamburger fajitas are ready to serve in just 35 minutes, so heat up that grill and try something new tonight.
Ingredient List
1 lb lean (at least 80%) ground beef
1 teaspoon grated fresh lime peel
1 tablespoon fresh lime juice
1 tablespoon chili powder
1 tablespoon tomato paste
2 cloves garlic, finely chopped
1 medium red bell pepper, cut into strips
1 medium onion, cut into thin wedges
2 teaspoons vegetable oil
4 Old El Paso™ Flour Tortillas for Burritos (8 inch; from 11-oz package), warmed
1/4 cup sour cream
4 teaspoons chopped fresh cilantro leaves
Guacamole, if desired
Advertisement
Recipe Continues Below
Preparation
Heat gas or charcoal grill. In medium bowl, mix beef, lime peel, lime juice, chili powder, tomato paste and garlic. Shape mixture into 4 sausage-shaped rolls, about 6 inches long. Thread 1 beef roll on each of 4 (11-inch) metal skewers; flatten slightly.
In another medium bowl, mix bell pepper, onion and oil; place mixture in grill basket (grill "wok").
Place skewered beef rolls and grill basket on grill over medium heat. Cover grill; cook 7 to 8 minutes, turning beef rolls after 5 minutes and shaking basket to turn vegetables occasionally, until beef rolls are thoroughly cooked and no longer pink in center and vegetables are crisp-tender.
Remove each beef roll from skewer onto center of tortilla. Spoon vegetables over beef rolls. Top with sour cream and cilantro. Serve with guacamole.
Expert Tips
To warm tortillas in the oven, wrap them in foil and bake at 325°F for about 10 minutes, per package instructions. To microwave, cover tortillas with a microwavable paper towel and microwave on High for 30 to 45 seconds.
Tomato paste is available in tubes and cans. Look for it in the supermarket next to the canned tomato products.
Fajitas with ground meat will make for an easy family dinner, but if you've got extra ground beef ready to go, try our recipe for Ground Beef "Totchos". These are a twist on nachos using potatoes instead of tortilla chips.
We love fajitas with ground beef, but if your family prefers chicken, check out this recipe for Fresh Chicken Fajitas. The lime-scented chicken and sautéed veggies will make this one easy to love, too.
Nutrition
1 Fajita Calories 410 (Calories from Fat 200); Total Fat 22g (Saturated Fat 8g ,Trans Fat 2g); Cholesterol 80mg; Sodium 410mg; Potassium 420mg; Total Carbohydrate 28g (Dietary Fiber 2g ,Sugars 4g); Protein 24g
% Daily Value: Vitamin A 35%; Vitamin C 35%; Calcium 10%; Iron 20%
Exchanges: 1 1/2 Starch; 1 Vegetable; 1 1/2 Fat
Carbohydrate Choice: 2
*Percent Daily Values are based on a 2,000 calorie diet