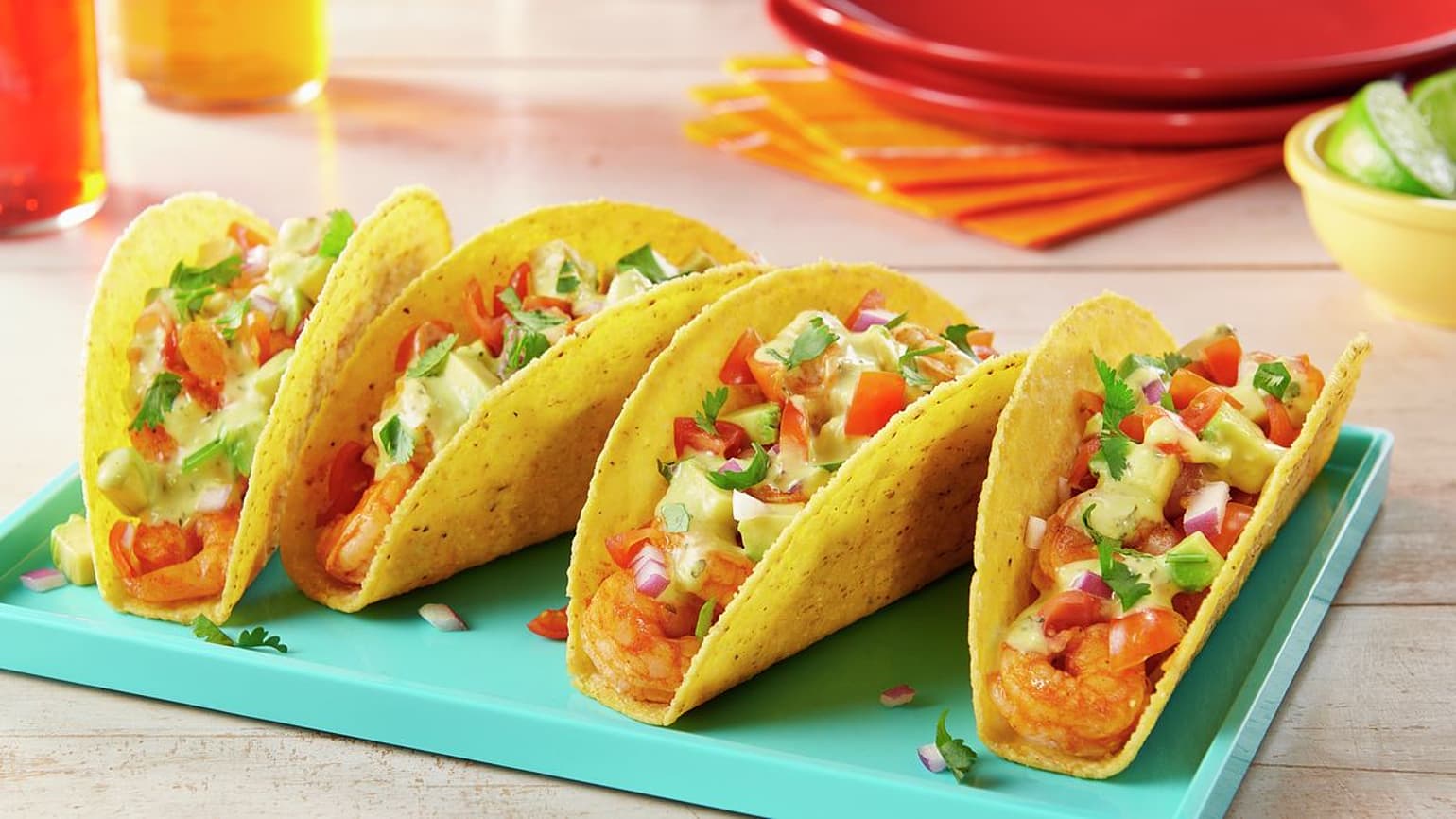 Quick and Easy Shrimp Tacos
These homemade shrimp tacos will make you think you're on vacation with every bite. Not familiar with how to make shrimp tacos? Cook shrimp with lime juice and Old El Paso™ Original Taco Seasoning Mix for a fresh and spicy taste before piling on your favorite toppings like avocado, cherry tomatoes, cilantro and Old El Paso™ Creamy Salsa Verde Sauce. Give taco night a flavor change up with Quick and Easy Shrimp Tacos.
Ingredient List
1 1/4 lb uncooked deveined peeled medium (41 to 50 ct) shrimp, tail shells removed
2 tablespoons Old El Paso™ Original Taco Seasoning Mix (from 1-oz package)
1 tablespoon fresh lime juice
1 tablespoon vegetable oil
1 package (10 count) Old El Paso™ Stand 'N Stuff™ Taco Shells, heated as directed on package
3/4 cup from 1 bottle (9 oz) Old El Paso™ Creamy Salsa Verde Sauce
1 medium avocado, pitted, peeled and chopped
1 cup chopped cherry tomatoes
3/4 cup chopped red onion
1/2 cup chopped fresh cilantro
Lime wedges
Advertisement
Recipe Continues Below
Preparation
In medium bowl, mix shrimp, taco seasoning mix and lime juice; stir to coat.
In 12-inch nonstick skillet, heat oil over medium-high heat. Add shrimp mixture; cook and stir 2 to 4 minutes or until shrimp turn pink and are cooked through. Remove from heat.
To serve, fill taco shells with shrimp, and top with salsa verde sauce, avocado, tomato, red onion and cilantro. Serve with lime wedges on the side.
Expert Tips
Add a little heat to your homemade shrimp tacos by including some sliced jalapeños to your topping options.
A shrimp's size is measured by the number of individual shrimp it takes to make up a pound. We used medium-size shrimp labeled 41/50 in this recipe, meaning there are between 41 and 50 of this size shrimp in a pound. The description of size can vary, depending on the market.
To take some of the "bite" out of the raw onion topping, place your onions in a strainer, and run them under cold water for a few seconds.
Now that you have the hang of how to make shrimp tacos, try out some flavorful twists with Spicy Mexican Shrimp Taco Bowls™ and Easy Mango Shrimp Tacos . These shrimp taco recipes are perfect for summer with light and fresh toppings.
Nutrition
2 Tacos Calories 400 (Calories from Fat 190); Total Fat 22g (Saturated Fat 3 1/2g ,Trans Fat 0g); Cholesterol 160mg; Sodium 650mg; Potassium 480mg; Total Carbohydrate 28g (Dietary Fiber 5g ,Sugars 2g); Protein 23g
% Daily Value: Vitamin A 10%; Vitamin C 8%; Calcium 10%; Iron 8%
Exchanges: 1/2 Starch; 1 Other Carbohydrate; 1/2 Vegetable; 3 Very Lean Meat; 4 Fat
Carbohydrate Choice: 2
*Percent Daily Values are based on a 2,000 calorie diet