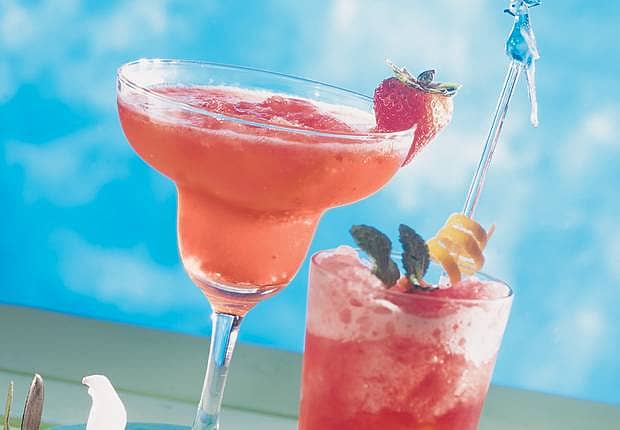 Strawberry Margarita Slush
As a beverage or as dessert, this is a fruity, cool antidote to the heat of summer.
10 Minutes Prep
5 Hours Total
Ingredient List
1 (16-oz.) pkg. frozen whole strawberries
1/3 cup sugar
1 (12-oz.) can frozen limeade concentrate
1 1/2 cups water
1 1/2 cups tequila
4 cups lemon-lime flavored carbonated beverage, chilled
Preparation
In food processor bowl with metal blade or blender container, combine strawberries, sugar and limeade concentrate; process until strawberries are chopped and mixture is blended. Slowly add 1/2 to 1 cup of the water, blending well.
Pour into nonmetal freezer container. Add remaining 1/2 to 1 cup water, tequila and 1 1/2 cups of the carbonated beverage; mix well. Cover container; freeze 4 to 5 hours or until icy, stirring 2 or 3 times after 2 hours.
To serve, stir mixture; spoon into 10 glasses. Top each serving with 1/4 cup carbonated beverage.
Nutrition
Calories250(Calories from Fat0),Total Fat0g(Saturated Fat0g,),Cholesterol0mgSodium10mgTotal Carbohydrate43g(Dietary Fiber1g Sugars40g),Protein0g;% Daily Value*:Vitamin A0%;Vitamin C30%;Calcium0%;Iron2%; Exchanges:3 Fruit; 1 1/2 Fat; *Percent Daily Values are based on a 2,000 calorie diet.