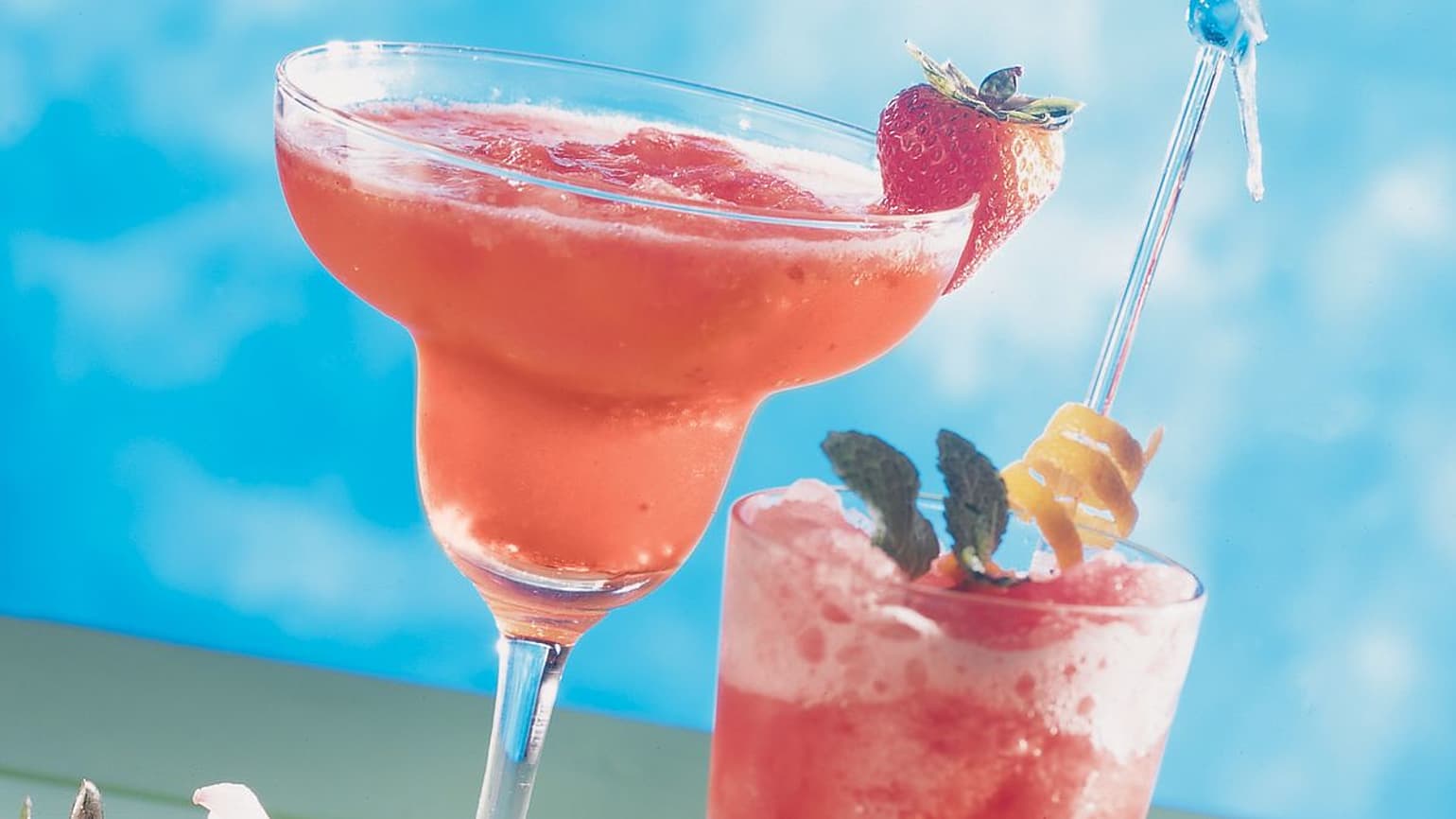 Strawberry Margarita Slush
This Strawberry Margarita Slush is the perfect icy drink for happy hour, any day of the week. Whether you're sipping poolside or keeping it cool in your kitchen, our margarita slushy recipe is a fruity, refreshing treat in the heat of summer. The simple recipe includes frozen whole strawberries, limeade concentrate, and of course, tequila. Stir, spoon into glasses and serve your easy frozen margaritas as a fun cocktail and dessert in one.
Total Time
4 Hours
10 Minutes
Ingredient List
1 (16-oz.) pkg. frozen whole strawberries
1/3 cup sugar
1 (12-oz.) can frozen limeade concentrate
1 1/2 cups water
1 1/2 cups tequila
4 cups lemon-lime flavored carbonated beverage, chilled
Advertisement
Recipe Continues Below
Preparation
In food processor bowl with metal blade or blender container, combine strawberries, sugar and limeade concentrate; process until strawberries are chopped and mixture is blended. Slowly add 1/2 to 1 cup of the water, blending well.
Pour into nonmetal freezer container. Add remaining 1/2 to 1 cup water, tequila and 1 1/2 cups of the carbonated beverage; mix well. Cover container; freeze 4 to 5 hours or until icy, stirring 2 or 3 times after 2 hours.
To serve, stir mixture; spoon into 10 glasses. Top each serving with 1/4 cup carbonated beverage.
Expert Tips
Punch up the flavor of this margarita slushy by dipping the rim of each glass in water, then in sugar.
Up the fun factor by serving each frozen strawberry margarita with a colorful cocktail umbrella.
If the strawberries in our Strawberry Margarita Slush aren't for you, try these Frozen Mango Margaritas. They're perfect for frozen margaritas or as a happy hour fruit pop! Mango, orange liqueur, sugar and fresh lime juice turn this cocktail into a perfectly sippable explosion of flavor.
We love Margarita Mondays, but we'll show up for Mojito Mondays, too. Watermelon Mojitos make it easy to choose the minty cocktail with refreshing watermelon, rum, mint and limeade.
Nutrition
1 Cup Calories 250 (Calories from Fat 0); Total Fat 0g (Saturated Fat 0g); Cholesterol 0mg; Sodium 10mg; Total Carbohydrate 43g (Dietary Fiber 1g ,Sugars 40g); Protein 0g
% Daily Value: Vitamin A 0%; Vitamin C 30%; Calcium 0%; Iron 2%
Exchanges: 3 Fruit; 1 1/2 Fat
*Percent Daily Values are based on a 2,000 calorie diet